Mirchi vada -Chilli fritters stuffed with corn and potato
Bhavnagri chillies(Jalapeno)-5 *
For stuffing-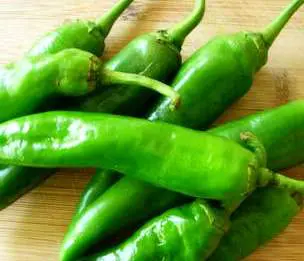 Boiled potato-2
Corn kernals-150 gms
Ginger-1/2 tsp
Lemon juice-1.5tsp
mint leaves-8
sugar-1/2 tsp
salt-1tsp
cumin seeds-1/4 tsp
Batter-
Gram flour-1.5 cup
Corn flour-2tbls
Salt-1/2 tsp
Chilli powder-1tsp
Asafoetida-1/4 tsp
Oil-1tsp
Soda bi carb -a pinch of 
Refined oil-2tsp 
PROCEDURE-
Boil corn kernals and crush coarsely in the mixer .
Wash and slit big chillies(bhavnagari chillies) and deseed them.if they are of hot variety then blanch in hot water for 2-3 minutes.drain and keep aside.
Heat oil in  a pan add cumin seeds ,when start crackling add ginger and turmeric.
Now add crushed corn and saute  for 1 minute.
Add mashed potato, salt,sugar and chopped mint leaves
Saute for a minute add lemon juice and take out in a bowl.and let it cool down completely.
Stuff this mixture in the chillies,press tightly with your thumb and slice to make small pieces.
Take gram flour and corn flour in a big bowl ,mix salt ,chilli powder and asafoetida.
Add water,mix well and make a medium thick batter .
Add soda bi carb on top of the batter and pour 1 tsp hot oil over it and mix again.
Heat oil in a pan,dip chilli pieces in the batter and deep fry on medium heat till golden in colour.
Serve hot.
Serving suggestions- with  tamarind date chutney  or any ketchup of your choice


*You can also use Poblano or Banana peppers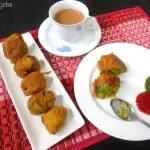 Print Recipe
Corn Mirchi Vada /Corn Stuffed Jalapeno