Punjabi choley –A very delicious, spicy and popular chickpea curry cooked in tangy tomato sauce – specialty of Punjab(India)
Punjabi choley or Chana masala is one of the most popular dish from Punjab and Delhi, but loved all over the world. You can find it at every street and corner shop in Delhi.
There are so many recipes and versions of making this delicious and spicy chana masala. Today I am sharing  my favorite recipe which is loved by me and  my family,This is also a no onion no garlic recipe as always.You need to add a special blend of spice-chana masala to give a special touch and flavor to this dish.
I never brought ready made chana masala but prefer to make my own fresh masala,but you can use any good brand of ready made masala.
Punjabi choley are best enjoyed with naan, kulcha, bhature or with any fresh bread. Serve punjabi choley with fried green chilies,stir fried tomatoes, grated radish salad,pickle and fresh lemon wedges.
You can also check these delicious recipes-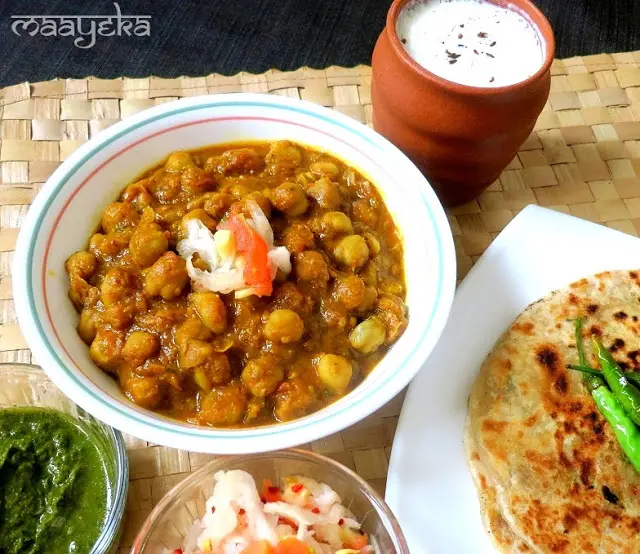 INGREDIENTS:-
Chick peas (Garbanzo beans)-1.5 cup*
Boil with-
Cinnamon-1 inch
Black cardamon-2
Pepper corns-8
Cloves-3
Tea bag-1
Amla pieces(Indian goose berries) -3(optional) *
Baking soda-1/2 tsp(optional)
Grind together-
Tomato -4
Green chilies-3
Ginger-1.5 t.s
Tempering
 Bay leaf-1
Cumin-1 tsp
Cloves-2
Asafoetida-1/3 tsp
Gram flour-1.5 tsp
Oil-3 tbls
Dry masala 
Chili powder-1.5 t.s
Turmeric-1/2 tsp
Black salt-1/2 t.s
Salt-1 tsp
Carom seeds( Ajwain)- a pinch of
Coriander powder-1.5 tsp
Mango powder or tamarind paste-1 tbls
Chana masala-1.5 tsp*
Garam masala-1/2 tsp
To Garnish-
Lemon juice-2 t.s
fresh coriander-2 tbs
Ginger juliennes-1 tbs
PROCEDURE-
Wash and soak chick peas at least for 8 hours.
 Wash them well with clean water and take in a pressure
cooker,add cinnamon, black cardamom, cloves, pepper corns,tea
beg,amla pieces,baking soda and 2.5 glasses of water.
Pressure cook for 5-6 whistles on medium heat or till chick peas are cooked well.(soft to touch).
Open the  cooker and remove the tea beg and amla pieces .
Grind and make smooth puree of tomato,green chilies and ginger.
Heat oil in a pan,add bay leaf ,cumin and asafoetida,when it start crackling add gram flour and roast to a golden colour.
Now add tomato puree,mix,  cover and cook for few minutes on low flame.
Add all the powdered spices and ajwain,cook till oil start separating from the gravy.
Now add boiled chick peas and enough water-1/2 cup to 1.5 cup (depends on how much gravy you need).mix well
Cover and cook on slow heat for 15 minutes.keep stirring
Add some lemon
juice according to your taste.
Garnish with fresh coriander and ginger juliennes.
You can also add fried potato cubes,grated paneer and some stir fried tomato pieces before serving. 
Tips –
 1 –To Make Chana Masala-
Dry roast 1.5 t.s coriander seeds,1 tsp cumin seeds and 1/2 tsp anardana(dried pomegranate seeds) and
then grind with 2 cloves , 1 black cardamom,1/4 inch cinnamon and make a fine powder OR  use ready
made chana masala powder.
2  –QUICK VERSION–  Use ready made cooked tin of garbanzo beans/chick peas and start from step 5.
3  –Amla-Amla is added to give a dark brown colour and flavour to the dish.and if you don't have amla, then tie a tsp of tea leaves in a muslin cloth and add at step 2.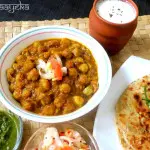 Print Recipe
Punjabi Chhole (Chick Peas in Tangy Tomato Gravy)
Punjabi style delicious chick pea curry