Aloo Potol Dalna- Potato and pointed gourd curry cooked with Indian spices.
Parwal is a seasonal vegetable and is available during summers till monsoon season. Aloo Parwal/Pointed Gourd/patal/potol is mainly used in North and East India specially in the states of Orissa and Bengal.This parval vegetable is easy to digest so recommended for the patients with weak digestion,constipation, jaundice and  is specially good for stomach ailments.
In North India Parwal is is a favourite summer vegetable as it is easily availble and reasonably priced during the season.Like all the other vegetables there are few versions and methods of making parval ki sabzi but In U.P this is mainly made in the form of dry curry/bhujia but some  prefer to make it in a simple thin soupy gravy.
Parwal is a also a favorite vegetable at my in laws place,though my children don't like it much but my husband loved this vegetable in all forms.I have also posted the recipes of making  Stuffed parwal   and  Aloo Parwal ki Sookhi Sabzi
This is my version of making Bengali Aloo Parwal Rasa with a slight North Indian twist.Hope you all will enjoy this .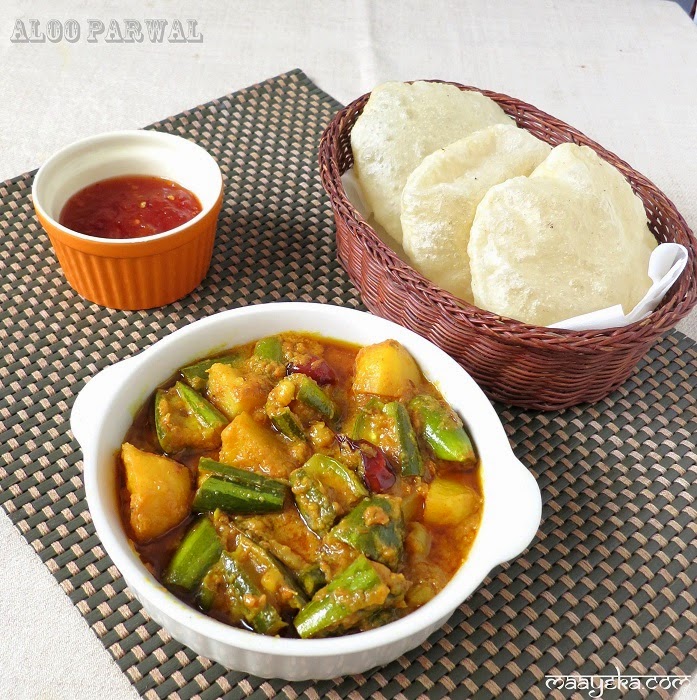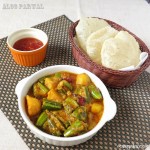 Wash and peel potatoes and chop into medium size pieces.

Wash and trim both the ends of parwal,slit from the center and chop into thick pieces.

Grind together tomato,green chilies and ginger and make a smooth paste.

Heat oil in a pan and deep fry parwal till they shrink in size but remain green in colour.

Deep fry potatoes till they get half cooked and get a nice golden colour.

Take 2.5 tbsp oil in a pan and add the tempering ingredients-cumin,green cardamom,cloves and cinnamon.

When cumin become golden then add the tomato paste and saute for a minute.

Now add all the dry spices and yogurt and stir fry till oil start separating.

Add fried aloo and parwal and mix well.

Now add around 1 cup of water(can add more if you want a thin gravy)

Cover the pan with a lid and simmer till potato and parwal become soft and gravy thickens.

Add a pinch of garam masala,sugar and fresh coriander and cook for a minute.

Serve hot with luchi, paratha or daal- rice.
NOTE-
1- * You can substitute mustard oil with any cooking oil of your choice,but for the authentic flavour I prefer mustard oil.
2- You may shallow fry the parwals and use boiled potatoes(80%)for a low fat version.
3- No need to peel or scrape parwals otherwise they become soft and mushy and loose the crispiness.
4- water can be added according to the consistency of the curry you want to have .
There is no Nutrition Label for this recipe yet.