Spicy jingle balls – Easy and delicious snack made with bread and spices
This is quite an easy and quick snack with all the ingredients easily available at home.
I tried this recipe when my daughter wants to have some nice snack with the feeling and colours of x-mas ,so Iexperimented with whats ever comes in my mind and created this recipe and she liked it very much ,its a hit in my family.
you can also stuff a small cheese cube in the center instead of adding cheese in the mixture or can use both. this is so easy that children can also try it and enjoy.
for more easy snack ideas check my blog here – snacks and appetizers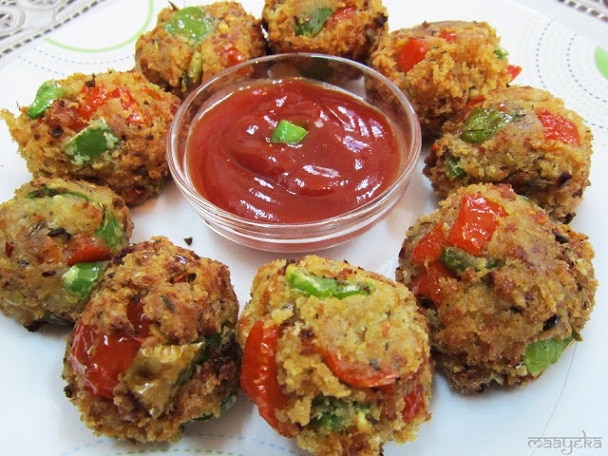 Prep time-5 min
Cooking time-10 min
Difficulty level-easy
Spice level-mild
Cuisine-Italian
Type-snack,starter
Serve-4
Bread slices -4
Red bell pepper -1/2 cup
Green bell pepper -1/2 cup
Mozzarella Cheese -4 tbls
Green chillies – 2
Oregano – 1/2 t.s
Chilli flakes – 1  t.s
Corn flour – 2 tbls
Cooking oil -2 t.s
Salt-1/2 t..s
PROCEDURE:-
Make crumbs from the fresh bread by tearing roughly and pulsing it in the mixer for a few seconds.
Chop green chillies, green and red bell peppers into small pieces and grate the cheese.
Heat oil in a pan,add chopped green chillies ,red and green peppers and saute for a minute.
Now add the oregano and chilli flakes in it.
let it cool down a bit.
In a bowl, add the bread crumbs, cheese, corn flour ,cooked pepper mixture ,salt and mix well.
Make small round balls of the mixture.
If the mixture is a bit too dry, sprinkle few drops of water  or milk to help in binding.
Heat oil in a pan, add the mixture balls and fry on medium heat till golden brown.
Drain on a tissue paper and serve hot.
Serving Suggestion: Best served with tomato ketchup or mint chutney.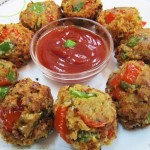 Print Recipe
Spicy Jingle Balls , Bread and Bell Pepper Balls