Gujrati kadi
A Gujrati speciality- sweet and sour gram flour and buttermilk curry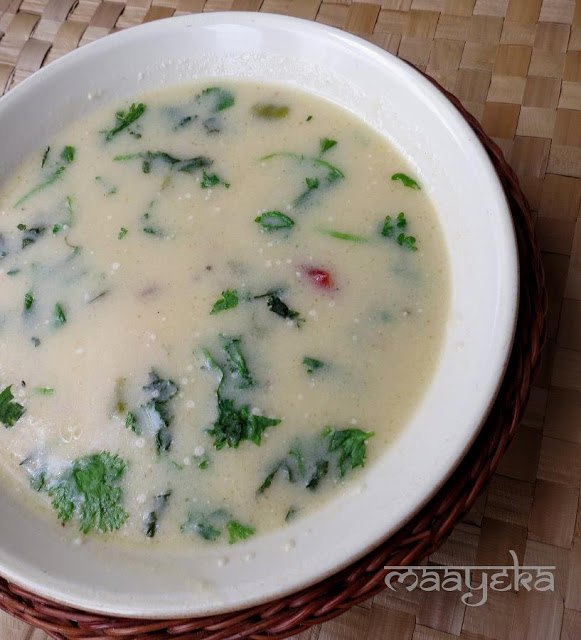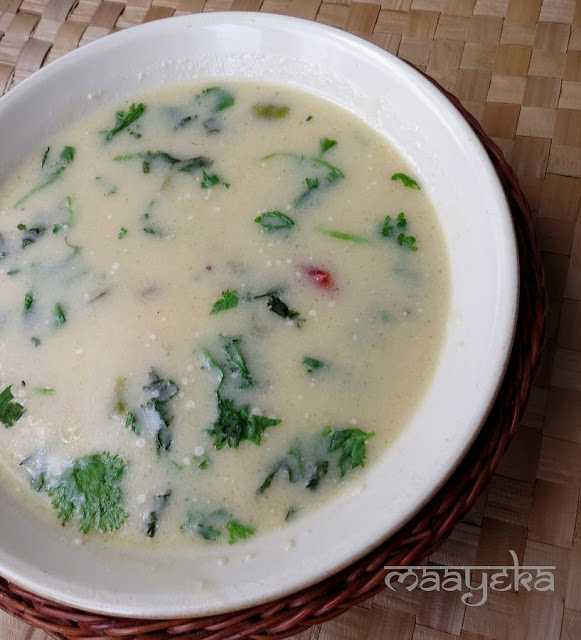 INGREDIENTS :-
prep time-5 min
cooking time-25 min
serve-5
Sour Buttermilk /chaas -1 litre *
Gram flour-5 tbls
Sugar -4 tbls
Salt-1 t.s
Chopped ginger-1 t.s
Green chillies- 5
Curry  leaves-10
Tempering-
Ghee – 2 tbls
Mustard seeds -1/2 t.s
Fenugreek seeds -1/2 t.s
Cumin seeds-1/2 t.s
Cinnamon-1/2 inch
Cloves-2
Pepper corns -8
Whole red chillies-4
Green cardamom-4
Bayleaf-2
PROCEDURE-
Take 1 cup buttermilk and gram flour in a bowl and mix well with a whisk.then add the remaining buttermilk and mix again.
Take the butter milk mixture in a cooking pan and add salt and sugar and let it boil on medium heat.
In a small pan heat ghee  and add all the tempering ingredients and let it crackle on low flame,when become golden, add slit green chillies and whole red chillies ,saute and pour  in the boiling kadi.
Add chopped ginger ,and curry leaves  and simmer for 15-20 minutes.keep stirring.
Add chopped green coriander and 1.5 t.s lemon juice and serve hot.
NOTE-
1-Buttermilk-Take 1.5 cup sour curd and  add 800 ml water to make buttermilk. if curd is not  sour then add 1 t.s extra lemon juice in kadi.
 2-Traditionaly turmeric is not added in this curry.but you can add if you wish.
serving suggestions – serve with roti ,bhakri, khichdi or with vegetable pulao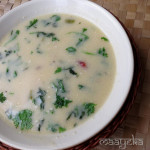 Print Recipe
Gujrati Kadi