Dum aloo- Baby potatoes cooked in a rich creamy tomato sauce, seasoned mildly with Indian spices. 
Potato – the king of vegetables, is loved by everyone, everywhere – whether it's the famous french fries, chips, grill or bakes. There are so many recipes to cook potatoes. Among potato based Indian curries – Dum aloo is my most favourite one.
There are so many versions of this recipe, and the most popular version is the Kashmiri Dum Aloo. However, today I am sharing a different version of Dum Aloo – spiced with Chana Masala (chholey masala) and Black Salt/Rock Salt. Hope you all will like this too :).
INGREDIENTS-
preparation time-10 min
cooking time-10 min
serve-8
Baby Potatoes – 500 gm (approx 20)
Chana Masala – 3.5 tsp
Kashmiri chili powder – 3.5 tsp
Turmeric – 1 tsp
Black salt – 1/2 tsp
Salt – 1/2 tsp
Bay leaves – 2
Asafoetida – 1/4 tsp
Coriander powder – 3 tsp
Tomato puree – 1.5 cup
Yoghurt – 3/4 cup
Cream – 2.5 tbls
PROCEDURE-
Parboil the potatoes, peel and prick them.
Deep fry in hot oil OR shallow fry OR apply 1 t.s oil and bake in hot oven for 5-10 minutes. Then sprinkle pinch of black salt over them.
Mix Kashmiri Chili Powder, Turmeric and Coriander Powder in 1/2 cup water and keep aside. (Paste A)
Heat 3 tbsp ghee or oil in a pan, add bay leaves and asafoetida, then add tomato puree, stir fry for 1 minute then add chana masala, cream and curd.
Keep stirring so that the masala does not curdle.
Now add paste A and fried potatoes, and cook for 1 minute.
Add 1.5 cups of water, salt, black salt and cover and cook for 2 minutes so potatoes get cooked properly.keep stirring in between. (If you want a thin gravy then add little more water)
Add chopped fresh coriander and mix in.
Garnish with 1 ts of fresh cream and serve hot.
Note-
If you are not using kashmiri chili powder then reduce the quantity of chilies to half.
Serving Suggestions – Serve with Naan, Tandoori roti or Rice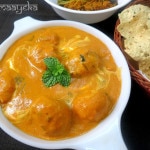 Print Recipe
Dum Aloo Masala Recipe