Sweet puffs stuffed with solidified milk and nuts -Indian style                               
Chandrakala is probably the most popular sweet in India, in variants. Every state has it's own different version of making it.
To make chandrakala -Homemade pastry sheets are stuffed with mawa (dried whole milk), sugar and nuts, deep fried and soaked in sugar syrup.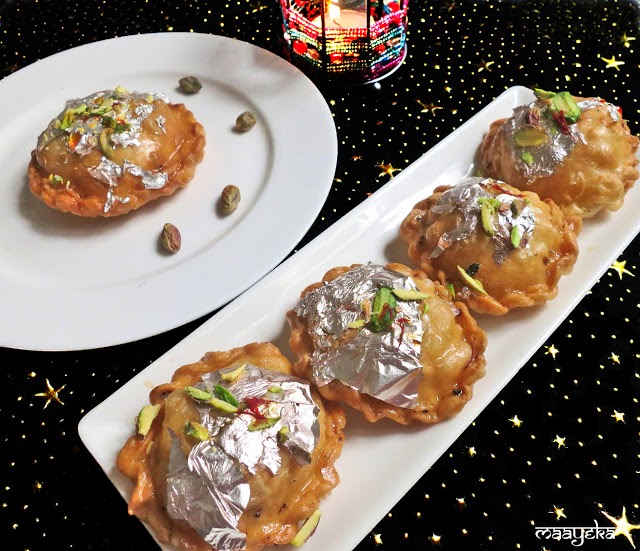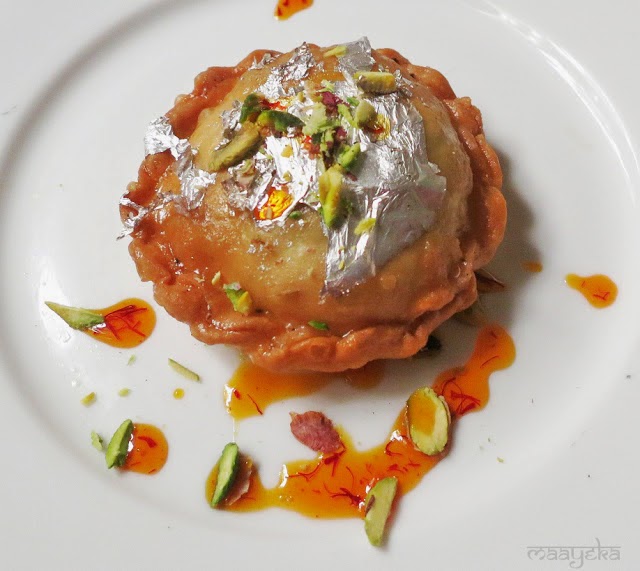 INGREDIENTS-
 Refined flour (Maida)-1.5 cup
Clarified Butter (Ghee)-4 tbsp
Dried solidified milk (Khoya/Mawa)-1 cup*
Dessicated Coconut-1 tbsp
Castor sugar-2 tsp
Mixed Nuts-3 tbsp
Cardamom Powder-1/2 tsp
Saffron-1/4 tsp
Sugar-1.5 cup
Water-1 cup
PROCEDURE-
In a bowl take refined flour, and add the clarified butter (ghee).
Add water and make a medium soft dough, cover and keep for 15 minutes.
Take a non stick pan and add the solidified milk (mawa) in it and roast on a low flame till it becomes soft.
Then add the dessicated coconut and chopped nuts, roast for a few seconds and then take them out in a bowl.
Now add cardamom powder and saffron to the pan. When they become slightly warm add the castor sugar and mix well.
Sugar syrup- In a pan add sugar and water, boil on medium heat and make a syrup of 2 string consistency
Add the saffron and cardamon powder mixture (made in step 5) to the sugar syrup.
Make small balls from the prepared dough and roll to make medium thick discs/pooris.
Place the stuffing in the centre,cover with other pori and press to seal the edges(apply some water on the edges of both poori's)
Then fold the sides to make a pattern OR just press with  a fork to give a pattern and seal the edges.
Heat ghee(or oil) in a deep pan and deep fry the chandra kala on low heat till golden in colour.
Remove on a paper napkin and prick once with a tooth pick in the center.
when becom warm then dip in sugar syrup for 5 minutes and then take out in a plate.
Garnish with silvar vark,saffron paste or chopped nuts.
serve at room temperature.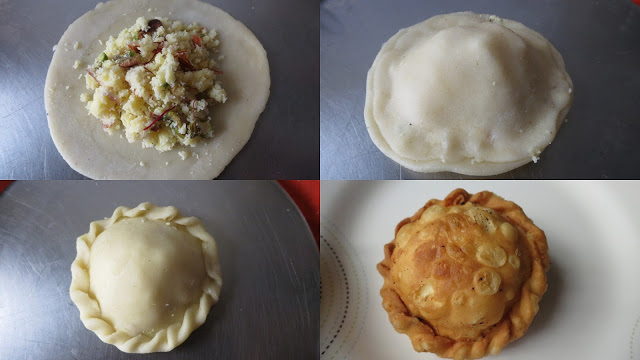 How to make mawa with milk powder-
1-Traditionaly khoya is made by boiling and cooking milk till it become thick and almost solid.but you can easily make khoya by using milk powder
2–Take 1 cup of milk powder add 1.5 tsp of ghee and mix,then add some milk to make a soft dough.
cover and cook in microwave for 30 seconds,rest for 5 minutes,mash and use as required.
3- Take the dough in a soft cotton cloth,tie it loosely and place it in a
closed steel box and steam in a pressure cooker(remove the whistle) or any steamer for about 5-8 minutes,wait for 5 minutes ,take out and mash or rub well before using.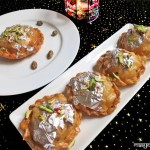 Print Recipe
Chandrakala /Stuffed sweet puffs