Masala Gur- Jaggary cooked with spices and nuts- a winter specialty from Punjab
Masala Gur is a healthy delicious winter specialty food. Jaggary is made with sugarcane juice , sugarcane juice is boiled till it thickens and then set in trays and molds and then cut into blocks and cubes. Jaggary is very much healthier then refined sugar so it is better to use Jaggary instead of  sugar when ever possible.
Jaggary helps to keep the body warm, helps to cure cold,cough and minor winter ailments. It can easily be replaced with sugar , you can use it in the making of sweets ,savory, can add in tea, chutney, curries and daals .
Jaggary, Ginger powder, black pepper, ajwain gives warmth to the body and helps to cure joint pains and cough. Fennel seeds and dry ginger/ saunth helps in Digestion. Nuts and sesame seeds gives warmth and energy to the body and are good for bone and joint health.It is also a very good Post partum recipe for new lactating mothers. Can be given after delivery to give warmth and energy to the body.
I have tasted this delicious healthy Masala gud when my father was posted in Aligarh. Some one from the nearby village brought a tray full of this freshly made Masala gud and we all loved the taste of this new winter delicacy. But then I totally forgot about this recipe.
Now few days back while chatting with my friends I suddenly remember this recipe and then made it yesterday and every one liked it in my family, specially my little Aniruddh ate it happily so I am more then happy to make this simple yet healthy Jaggary bites 🙂
How To Make Masala Gur
Making Masala Gur is quite easy. You just have to melt the Jaggary in a heavy bottom pan on slow heat . When the Jaggary melt down completely then add all the spices and nuts in the melted Jaggary mixture and mix it quickly and set in a greased plate. Don't over cook it else it become hard in texture.
You can add what ever nuts and spices you have or want to add . If you don't like any ingredient in the list you can easily avoid that. The quantity can also be adjusted as per individual choice. Basically the ingredients which gives warmth and energy to the body are added in Jaggary before setting it.
You can use any type of Jaggary but I prefer to use organic or desi gur to make this masala gud. This masala gud can be given to everyone. As this is quite soft in texture so old persons can also have it .
You can also try these winter specialties-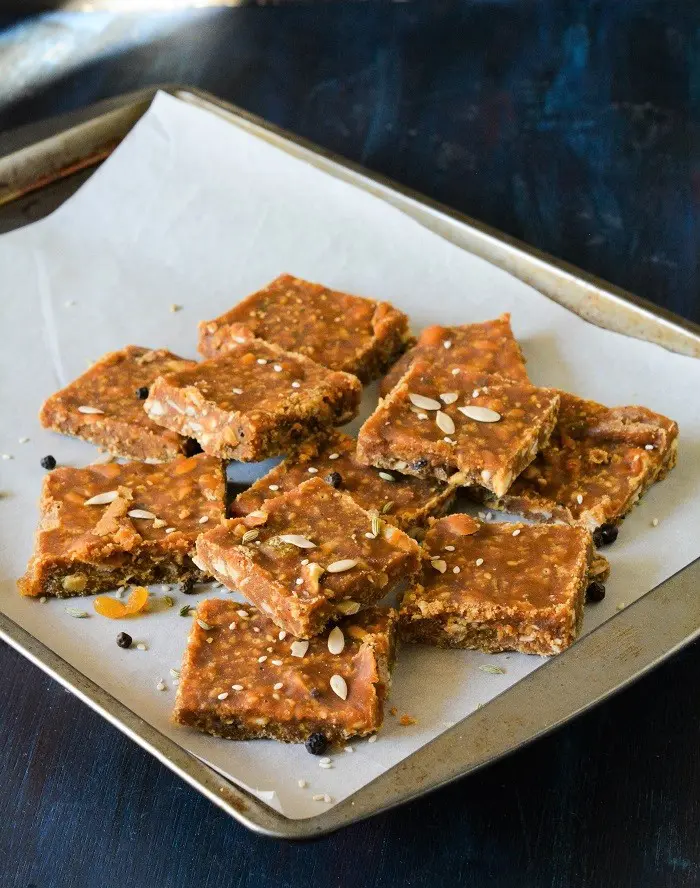 ★ Have you tried this recipe? Click on the stars ★ in the recipe card to let us know your feedback!  If you tried it then You can also click the recipe pic and share on Instagram with hashtag #maayeka
You can also follow me on Pinterest , Facebook ,Twitter,    Instagram and You Tube for more delicious recipes and updates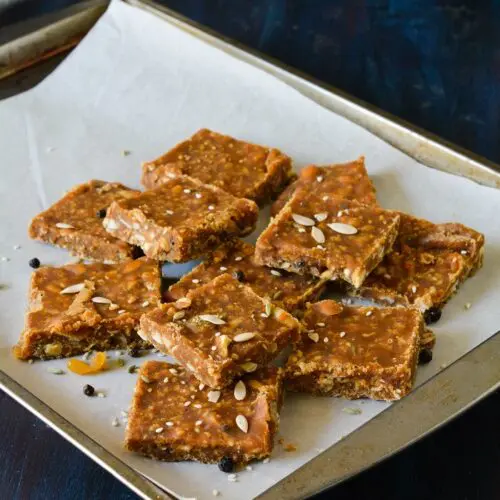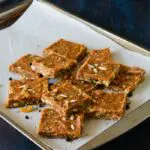 Print Recipe
Masala Gud
Masala Gur- Jaggary cooked with spices and nuts- a winter specialty from Punjab


Ingredients
450

gm

Jaggary / Gud *

20

Almonds / Badam

crushed coarsely

12

Cashew Nuts / Kaju

crushed coarsely

2.5

tbsp

Melon Seeds / Magaz / Kharbooje Ke Beej

1/2

tbsp

Pepper Powder / Kali Mirch

1.5

tbsp

Ginger Powder / Saunth

1.5

tbsp

Raisins / Kishmish

1.5

tsp

Fennel Seeds / Saunf

1

tsp

Carom Seeds / Ajwain

1

tbsp

Sesame Seeds/ Till

2.5

tbsp

Pumpkin seeds

2

tsp

Clarified Butter / Desi Ghee
Instructions
Grate or chop jaggary into small pieces.

Grease a steal plate with ghee and keep aside.

Heat ghee in a heavy bottom pan and then add the jaggary.

Cook it on slow heat till it melt completely.

Now add all the ingredients in the melted jaggary and mix well quickly.

Now pour the prepared jaggary mixture in the plate in a medium thick layer.

Let it cool down for 15 minutes.

Make marks with a knife to cut into desired size of your choice.

Now let it cool down completely then separate the pieces and store in an air tight jar.

Have 1-2 pieces daily with breakfast or before lunch.
Notes
Note-
Cook Jaggary till it melts , don't over cook else it become hard in texture.
Add what ever nuts are available , You can replace almonds and cashew with roasted crushed peanuts also.
Walnuts ,pecan,pistachio, pine nuts,sunflower seeds can also be added in it.