Gujarati Kadhi- A very popular slightly sweet ,sour and mildly spicy kadhi from the state of Gujarat.
Gujarati kadhi is a yogurt based thin curry. Usually most of the kadhi are made with yogurt and gram flour .But the ratio of both differs in each state so each kadhi taste different . In Gujarati kadhi good quantity of yogurt or buttermilk is used and gram flour is added in small quantity. This kadhi is quite thinner then the Punjabi style kadhi.
No pakoda or vegetables are added in this kadhi . It is like a tangy thin soup . The taste is slight sweet ,sour and spicy. The amount of sugar added in this kadhi depends on individual choice, Some prefer it sweeter and some just add a pinch of sugar.
The ingredients are very few and basic,are easily available in each and every Indian kitchen. Some people love to add radish slices and few potatoes in it. But usually it is made with out adding any vegetable.
How To Make Gujarati Kadhi
You need sour yogurt or buttermilk to make Gujarati kadhi. If you don't have sour yogurt then you can add some kokum or lemon juice in it. Whisk the yogurt and gram flour well with a hand blender to remove any lumps. add water to dilute the mixture.
For making kadhi Prefer to use a slightly bigger and wide pan as it tend to boil and can spill over from a small pan.
Make tempering in a small pan. After making tempering add it in the yogurt and gram flour mixture ,add the seasoning. Cook kadhi for around 1/2 hour on medium to low heat.
Gujarati Kadhi is served with ?
Traditional Gujarti kadhi is served with khichdi, pulao,daal rice combo. It also taste great with any dry sabzi and roti. Khichdi-kadhi is a very popular Gujarati combo meal and can be served on all occasions.
You may also like these recipes-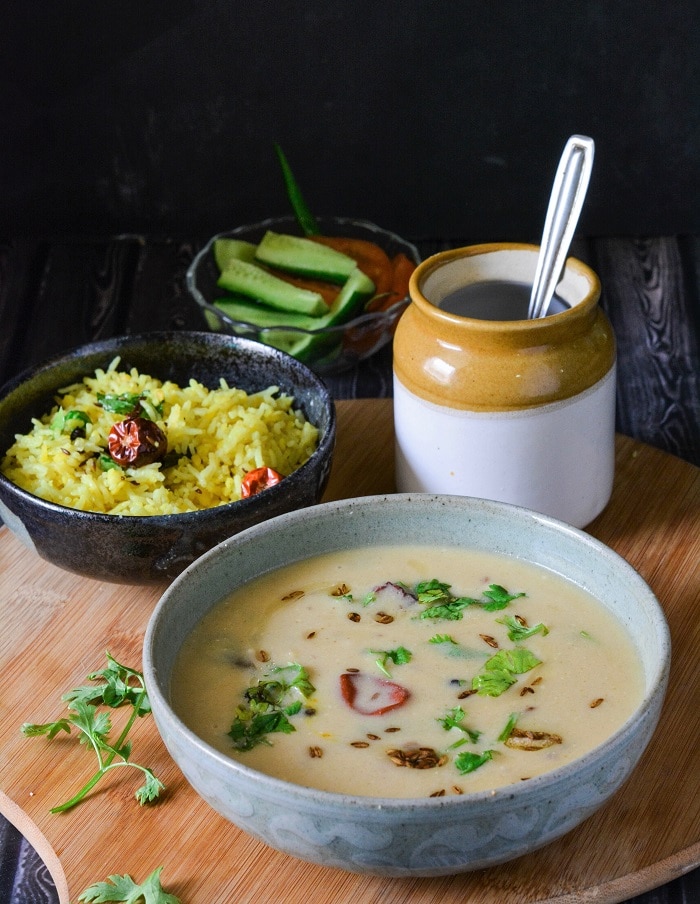 Check this video recipe and subscribe to my channel for more such recipe videos-