Green chilli pickle- An easy to make, spicy and tangy green chili and ginger pickle.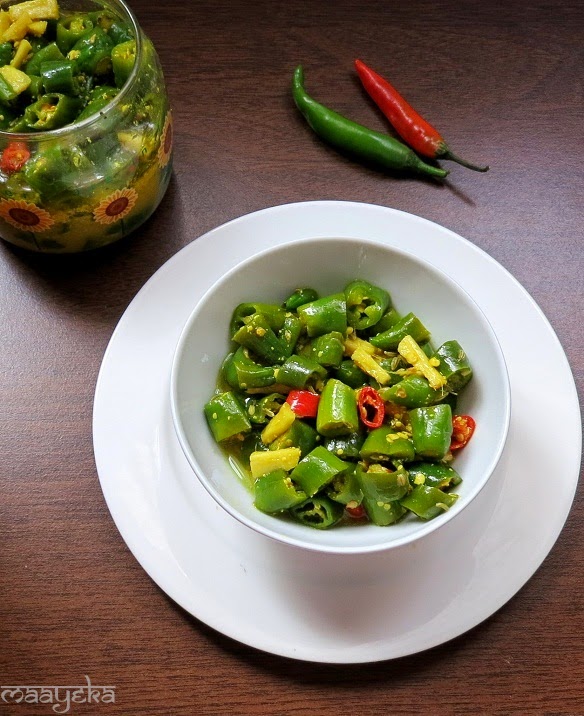 prep time-15 min
Difficulty level- easy
spice level- medium hot
cuisine- North Indian
INGREDIENTS-

Fresh green chilies-250 gms
Ginger slices-4 tbs (optional)
Lemon juice-3/4 cup
Refined oil-3/4 cup
Crushed fennel seeds (saunf)- 2.5 tbsp
Crushed mustard seeds- 1.5 tbsp
Turmeric powder- 1/2 tsp
Salt-1.5 tbsp
PROCEDURE-
Wash and wipe green chilies well, then chop into roundels.
Peel and make thin slices of the ginger.
Put them in a glass bottle or jar and add salt, turmeric and mustard powder(rai) and keep covered for 4 hours.
Then add lemon juice, oil and fennel seeds. Mix well.
Let it mature for 2 -3 days and then start consuming. (You may start using it immediately after making it, but the taste gets enhanced after 2-3 days).
Keep at room temperature for 1 week. Then keep refrigerated for 2-3 months (Keep mixing it every once a while).
You can also add fresh turmeric (kachi haldi/or amba haldi) into it along with ginger.
NOTE –
1-Prefer to use milder green chilies/serrano peppers/Bhavnagri mirch, to make this pickle.
2- If you'd like to make Stuffed Green Chilies/Masala Mirch, then you'll like this recipe-Masala Mirch/Bharli Mircha 
Serving Suggestions – Serve with daal, bread or with any curry.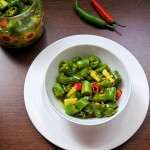 Print Recipe
Green Chilli Pickle / Hari Mirch ka Achar