Coconut ladoo made with condensed milk, a quick and easy recipe
Coconut ladoo is amongst the few easy and quick recipes you would want to make on festivals and special occasions.
It can also be made with fresh milk and sugar which can take quite a long time so using condensed milk will make it quick and easy. During my school summer camp I made these coconut ladoo's ,kids just loved it ,and they were amazed that they were able to make ladoos using the microwave .
So today for Raksha bandhan I want to share this easy coconut ladoo recipe so even the small behenas (sisters ) can make these for their Bhaiyas ( Brothers ) ,for a easy version you can just mix coconut with condensed milk and make these ladoo's  ,they taste equally delicious.
Instead of only using cardamom powder You can add chopped nuts ,vanilla essence,strawberry essence, tutti frutti in the dough and make delicious ladoos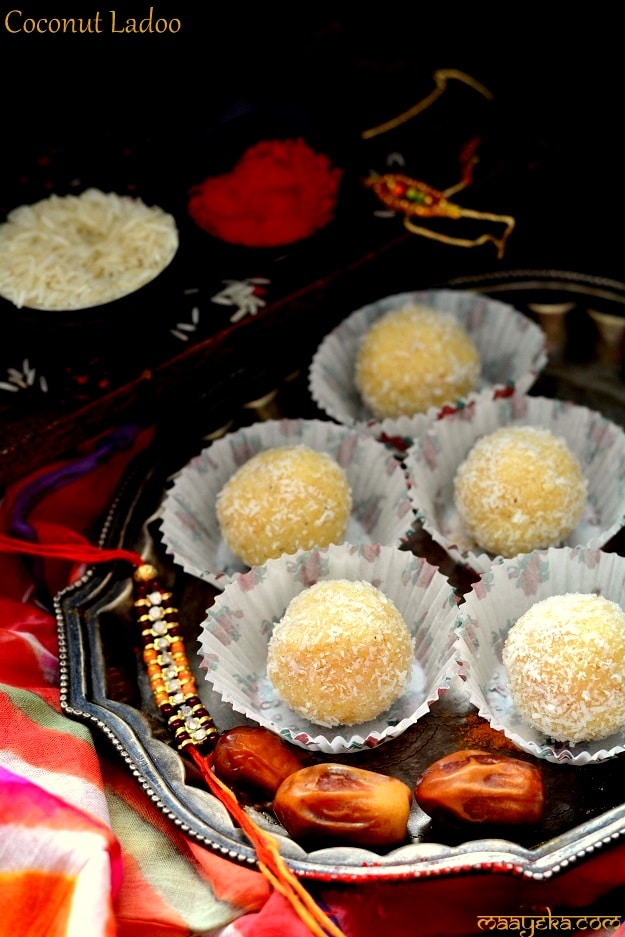 For Rakhsha bandhan you can also make kaju barfi , badam Mysore pak , kalakand , Pineapple sandesh  etc.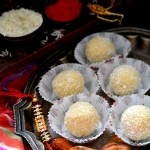 Add ghee in a non stick pan (to grease the pan )

Add coconut,condensed milk ,cashew nuts and cardamom powder in the pan and mix

Cook on slow flame for about 2-3 minutes

Remove from the heat and let it come to room temperature

Spread 1/4 cup desiccated coconut in a plate.

Make small balls of coconut and roll them in the dry coconut.

Serve the ladoos in paper cups and enjoy.
Shelf life- 4-5 days at room temerature
There is no Nutrition Label for this recipe yet.