Mysore paak -Soft and porous almond fudge-speciality from Southern India.
Mysore paak is a specialty from Southern India.It is made with generous amount of ghee.The traditional mysore pak is made with gram flour,but there are few versions of making this,mysore pak is also made with flour/maida and nuts etc.
I learned this badam mysore paak from a very good friend of mine and till then I am making this on all the festivals as every one in my family loves this badam mysore paak.
The making of mysore paak is little tricky,you need to have some practice and patience for making this,otherwise the method is very simple,you have to collect all the ingredients in the pan and then keep stirring for about 20-25 minutes.
If done correctly you will get a soft and porous Badam mysore paak,otherwise you will get a soft and flat mysore paak.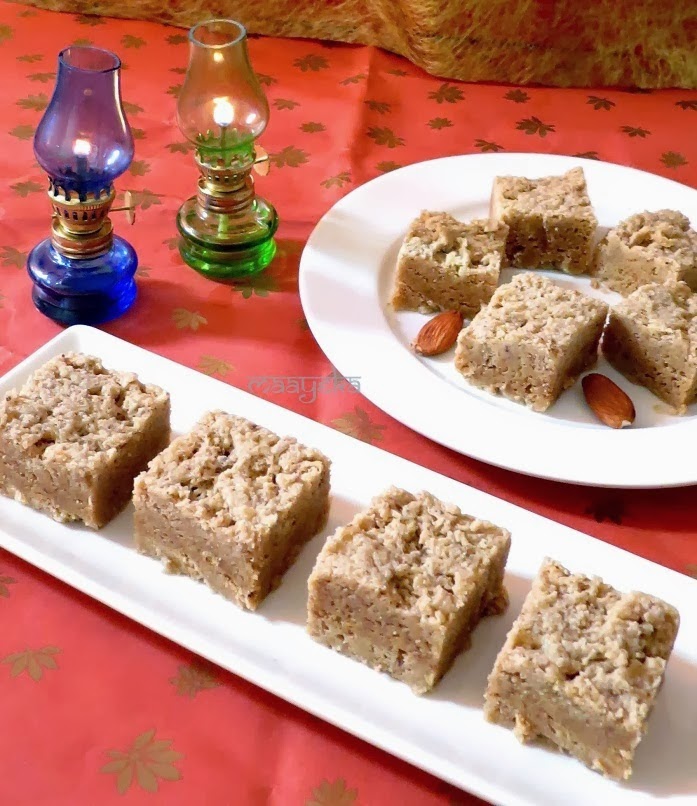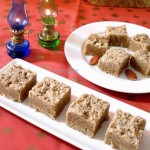 Print Recipe
Badam Mysore Paak / Almond fudge
Ingredients
1

cup

Almonds / Badam

1

cup

Water / Paani

2

cup

Sugar / Chini

3

cup

Clarified Butter / Desi Ghee

1/2

tsp

Cardamom Powder / Elaichi Powder
Instructions
Grind almonds to make a fine powder(no need to soak or peel the almonds)

Take a wide and heavy bottom pan/kadhai and add all the ingredients in it .

Mix all the ingredients with a laddle to make a smooth lump free mixture.

Now put the pan on gas stove and cook the mixture on medium heat.

Keep stiring the mixture continuously in one direction.

After about 15 minute the mixture will started to thicken.

Keep stirring continuously till the mixture start leaving the sides of the pan and ghee start seperating from it and get a light pink colour.

Now gently pour the mixture in a steel/metal plate in one direction,no need to level the surface of mysore pak.

Slide a small spoon under a side of the plate so all the extra ghee will collect on one side of the plate.

Let it cool down for about 20 minutes.

Cut into squares and serve.
Notes
NOTES-
1- Grind raw almonds,no need to soak or peel them.
2- The mixture should be stirred continuously in one direction 3- For a soft and porous mysore paak you need little patience and practice.
4-You can also make mysore pak with pistachio,cashew or a mixture of almond,cashew and pistachio.
5-The tricky part is to check the point of doneness(when to remove the mysore pak from the pan and spread in the plate) as undercooked mixture will result in a flat mysore paak and If overcooked the mysore paak become hard.But after 1-2 trail and errors you become an expert in making mysore pak.