A sweet and tangy tamarind and date dip
khajoor imli ki chutney is the most popular chutney of Northern India .It is served with each and every snack and chaat items ,no chat is complete with out drizzling few spoons of this tangy chutney. I always keep a jar full of tamarind chutney in my refrigerator and on each festival it is  the first thing to make  before starting to make the savoury snacks.
Sweet chutney is quite easy to make and their are few other versions of making sweet chutney other then making with tamrind ,we can also make saunth with mango powder – Amchoor ki meethi chutney and it is equally delicious and have a good shelf life .Along with tamarind chutney the spicy Green Mint chutney is also made prior to all the festival and celebrations.
It taste great with Dahi vada, Aloo samosa, Batata vada , Masala mathri and almost every street food and chaat items.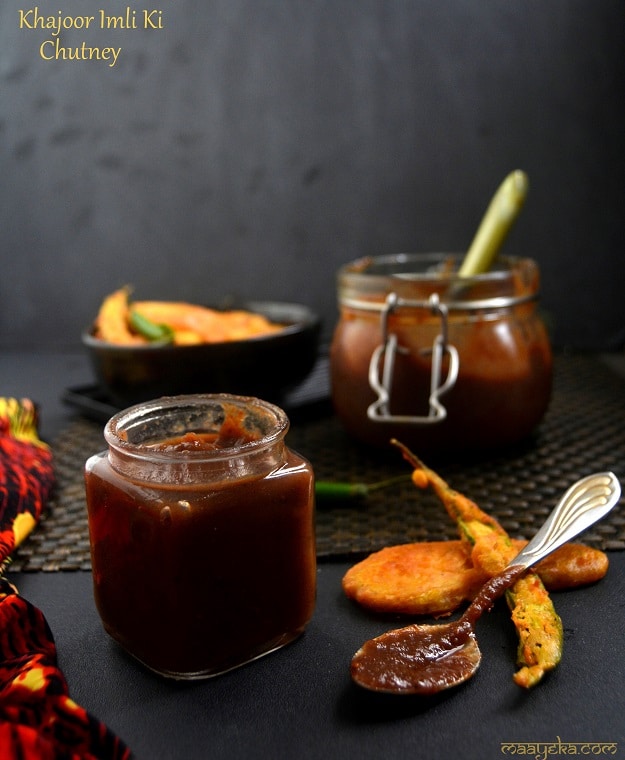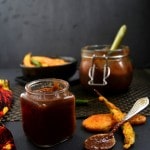 Remove the seeds from dates and tamarind

Soak tamarind in 1 cup water for 1/2 hour .

Add tamarind and dates in the pressure cooker with 2 cups of water and pressure cook for 2 whistles.

When cool down ,blend with a hand blender or mash well with your hand .

Strain the pulp with a soup strainer.

Add raisins and ginger,if you have fussy kids then add raisins and ginger in the strained pulp and blend again to make them into fine pieces.

Now add sugar,salt and chilli powder and 1 glass of water .(if you want to make it thinner, then add some more water)

Cook on slow flame for 20 minutes.then add roasted cumin powder and garam masala( personally I don't like to add garam masala in this,but if you like, you can add)

Give it a boil ,remove from fire.

Keep at room temperature for a week and then refrigerate it.
serving suggestions-serve as a dip with any snack ,chat or starter  or as a side dish with stuffed paratha etc.
There is no Nutrition Label for this recipe yet.