Grated Raddish salad
During Winter season Mooli or Radish is available in abundance and are of good Quality.They are thick and juicy as compared to the radishes available during summer.This Mooli lachcha is also popular as Charuli in my home town Mathura,you can call it Mooli lachcha,Charuli or grated Mooli Salad ,it taste very fresh and tangy.
The smell of radish is very sharp and pungent so many people avoid eating it just because of this reason,Though it have numerous health benefits ,it is very good For diabetics as it high in fiber and have low glycemic index.It helps to recover from Jaundice, Lower the risk of cancer, Radish is rich in potassium so controls blood pressure.High fibre content gave relief from constipation. Good for the patients of asthma and help in reducing weight. Very good for kidney health as it is diuretic in nature ,so do try to incorporate radish in your daily meal.
Radish is mainly used in salad ,But In North India –Mooli ka achar and Mooli ki bhujiya is also very popular ,both recipes are easy to make and taste great. Mooli ka lachcha is served as salad with meals and also as a garnish with the popular snack from Delhi – Ram ladoo.  Kashmiri Style Mooli ki chutney – Kashmiri Muji Chatin also taste very good with meal. The crisp and delicious- Mooli ka paratha is my favourite mooli dish.
Making Mooli ka Lachcha is very quick and simple ,you just have to assemble all the ingredients and a quick side dish is ready to serve with your meal.If the mooli is too juicy then you need to squeeze the water from it .You can grate and mix all the ingredients and keep in the refrigerator for some time but add the salt and lemon juice just before serving else it become watery and limp after some time.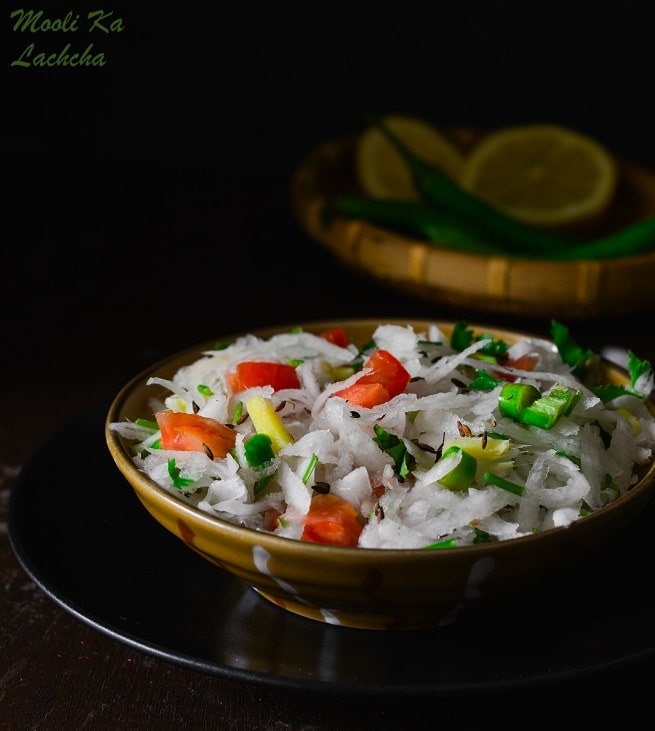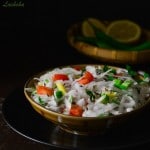 Peel and grate Radish /mooli and squeeze the extra juice by pressing it between your palms.

Deseed tomatoes and chop finely.

In a big bowl add all the ingredients and mix

Add salt and lemon juice when you want to serve the mooli lachcha,else it emit water and become soggy and watery.
There is no Nutrition Label for this recipe yet.