Fresh turmeric and yogurt curry – a winter specialty from RajasthanTurmeric /haldi have numerous health benefits.From thousands of years Its used in India  for its health properties and to give colour to the food. It is a very good source of antioxidants and have anti-inflammatory benefits.It also improve brain function and lower the risks of brain diseases, cancer and heart diseases. It also cure and prevent Alzheimer's disease.helps the patients of arthritis as it has  inflammatory properties, not only this but recent studies shows that it also works as a antidepressant.
So its a miracle herb to cure many diseases and is very easily available on a reasonable low price.In western countries they didn't use turmeric in their food so after the recent research about turmerics health benefits, turmeric capsules have become very popular their.
In India we use turmeric on daily basic in our food but during winters fresh raw turmeric is very easily available in the market so its a good ides to use the seasonal fresh turmeric. Kachchi haldi looks like yellow ginger.This kachchi haldi ki subzi is easy to make and taste good.
As turmeric is quite dry and hot in nature so a good amount of ghee and curd should be added to balance the heat and dry nature of haldi.This kachchi haldi ki subzi is a Rajasthani specialty and often made on special and festive occasion in winters
This subzi should be taken in moderation like a pickle or chutney.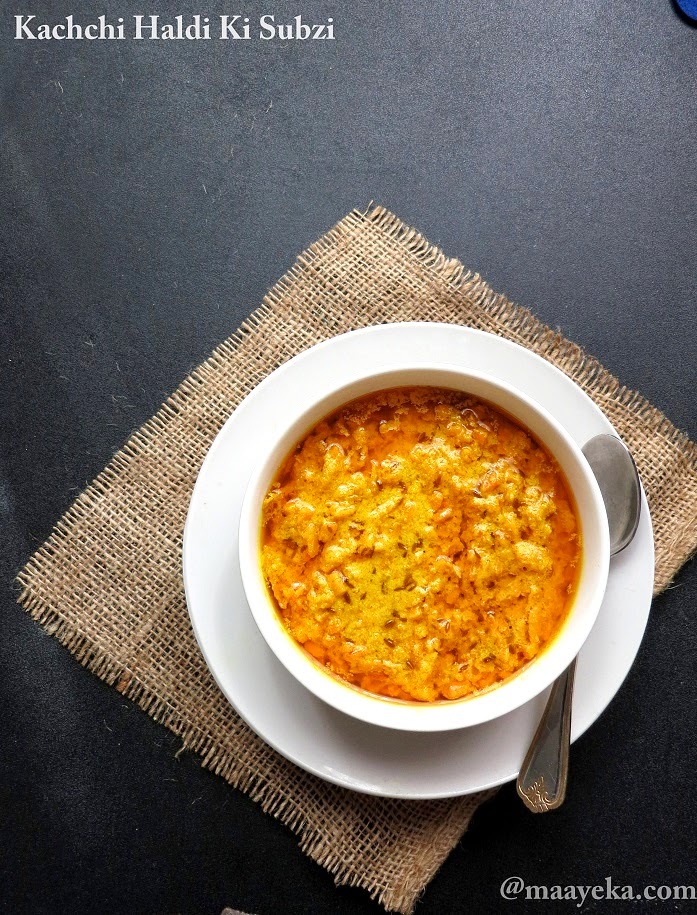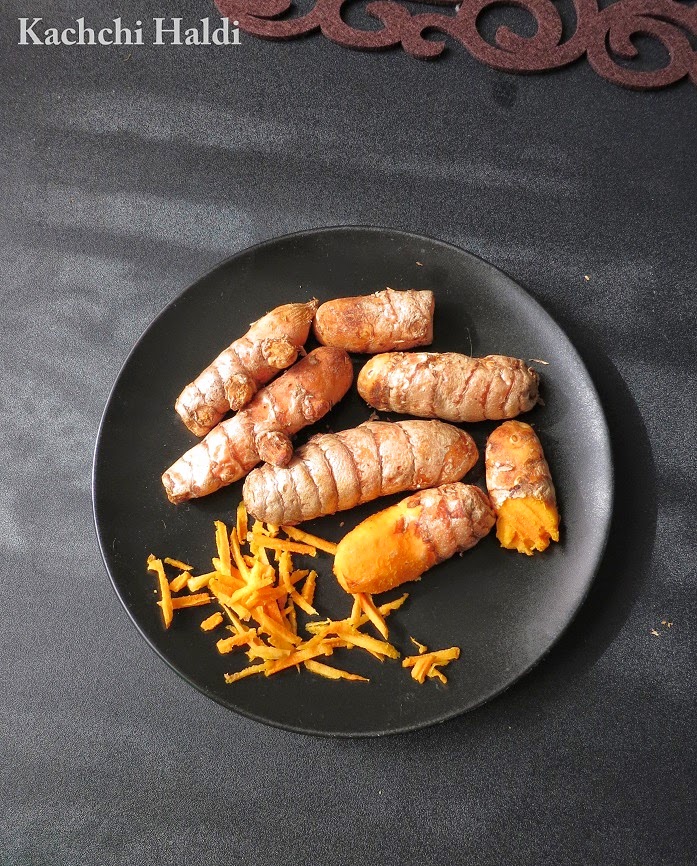 Prep time-10 min
Cooking time-12 min
Difficulty level-easy
Spice level-medium
Cuisine-North Indian
Type-side,pickle
INGREDIENTS-
Fresh turmeric /kachchi haldi -170 gms
Ghee/clarified butter- 4.5 tbsp
Cumin seeds / jeera- 1tsp
Chili powder/lal mirch- 3/4 tsp
Salt-to taste
Yogurt/dahi- 1 cup
PROCEDURE-
Scrape fresh turmeric with a knife to remove the skin.
Grate with a thick grater or chop in a electric chopper.
Heat ghee in a heavy bottom pan.
Add cumin and when it become golden then add the turmeric.
Saute on medium heat for about 5 minutes.
Add beaten yogurt,salt and chili powder.
Keep stirring till it start to thicken.
When ghee start floating on top of the subzi then remove from heat.
Stays well for a fortnight.
Serving suggestions- Serve a tsp of turmeric subzi with your daily meals.Goes well with rice or any bread.
NOTE-
You can also add 1/4 cup of boiled peas at step 6.
The consistency of curry can be semi thick to dry,depends on your preference.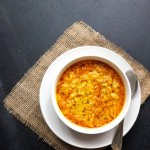 Print Recipe
Kachchi Haldi Ki Subzi