A very easy and Instant seasonal Gajar Mirch ka Achar
With The arrival of winter the market is now flooded with fresh leafy vegetables,crisp radish and carrots and so many colourful vegetables to choose from.The greens are mostly used for making stir fries like Aloo Methi ki sabzi and Punjabi Style Saag Aloo   and parathas.
During winter we prefer to make stuffed parathas and those hot and crisp parathas goes well with yogurt, chutney and pickles . I remember my Mom and Nani used to make big jars of Gajar,Gobhi,Shalgum ka achar , Mooli ka Achar and Aloo Gajar ka achar which was served with stuffed parathas ,daal chawal etc. The stock would easily last the whole winter season. Now I also make these seasonal pickles during winter as my family loves all these crisp vegetable pickles.
These seasonal pickles dont have much oil and spices like other yearly pickles so you can eat them without worrying about too much oil and spice intake,they are almost like any Indian stir fry. This Carrot and green chili pickle is an Instant pickle which doesn't need too much oil and too many spices .
You can adjust the quantity of carrots and chilies according to your preference ,can add more chilies if you want.After 4 days keep the pickle refrigerated and enjoy till it last. If you want to make it in a large batch then you can increase the quantity of oil to increase the shelf life.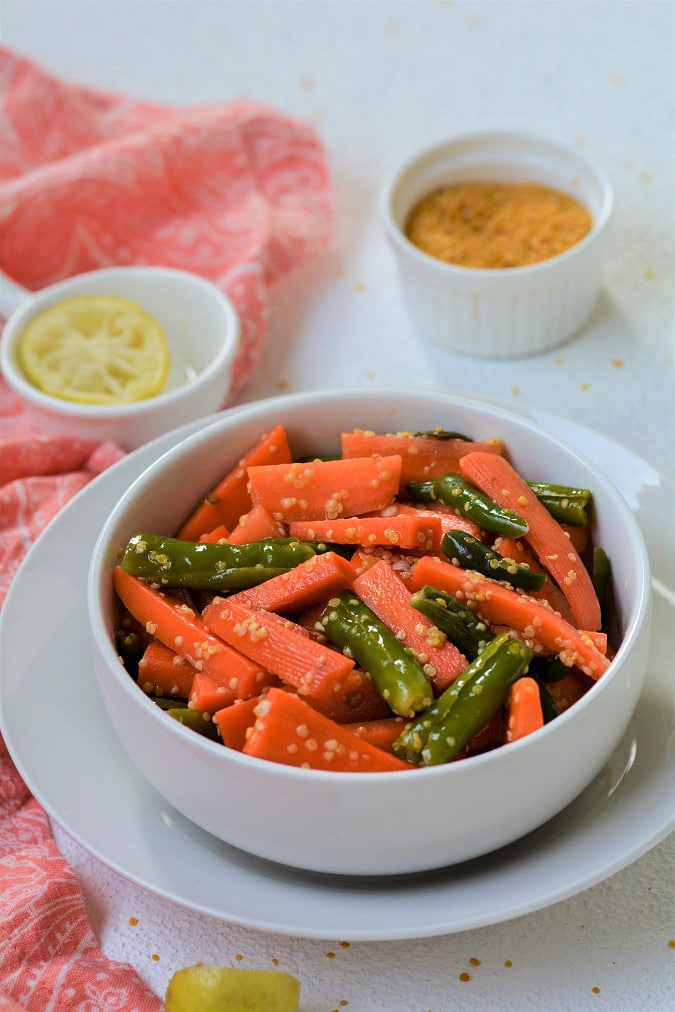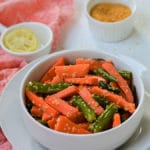 Wash and wipe green chilies and carrots.

Chop carrots into batons and chilies lengthwise of the size of carrots.

Take a glass bowl add carrots,chilies and salt in it and mix well.

Keep it covered for 2-3 hours , so carrots will release its extra moisture .

Now drain the carrots in a colander to drain all the water.

Spread the carrots and chilies on a muslin cloth and spread either in sunlight or under the fan till its the extra moisture dries up.

It will take about 2-3 hours in sun and 5-6 hours inside the room.

Now take a bowl and add oil,vinegar,lemon juice , half tsp salt and mustard kuria and mix well till it becomes like a smooth mixture.

Add carrots and chilies in the mixture and mix well.

Cover the bowl with a lid and keep in sunlight for 2-3 days and keep mixing in between.

Then transfer the pickle in a glass jar and keep refrigerated.
There is no Nutrition Label for this recipe yet.