Masala kachori -A flaky and spicy stuffed kachori from Gujarat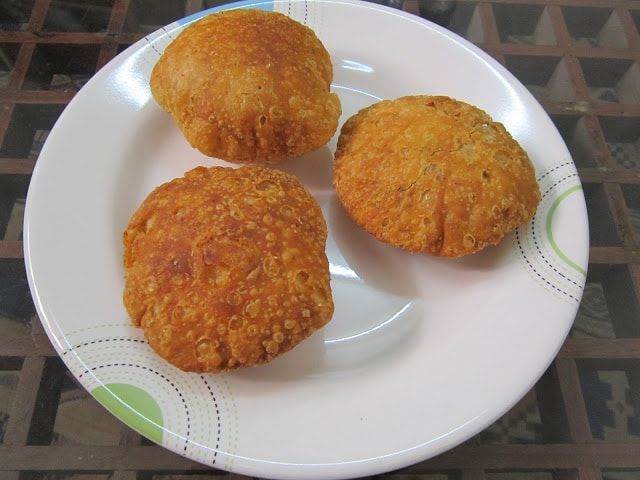 INGREDIENTS:-
preparation time-10 min
coooking time-10 min
serve-6
Refined flour-1 cup
Oill-1 tbls
Ghee-1 tbls
Salt-to taste
Roasted  and crushed sesame seeds -1 tbls
Roasted gram flour-3 tbs
Grated dry coconut-1 tbls
Clove powder-1 pinch
Cinnamon powder-1 pinch
Fennel powder-1 t.s
Roasted and crushed peanut powder-2 tbls
Jeera powder-1 t.s
Coriander powder-1 t.s
Powdered sugar-1 tbls
Lemon juice-1 tbls
Chilli powder-1 t.s
Oil-1 t.s
Salt-1/.s
PROCEDURE:-
Mix flour,salt ,ghee and oil ,add  just  sufficient  water to make a medium soft dough.cover and rest for 15 minutes
Dry roast sesame.gram flour and peanut powder.
 Mix all ingredients for stuffing,oil is added  for binding the spices,if it feels too dry then add 1  more t.s  of oil.but don't add water
Knead the flour again ,and make lemon size ball from the dough and keep aside.
Take a walnut size ball, roll a little and stuff 1/2 t.s of mixture into it ,close well and roll again into a thick poori.
Heat oil in a pan  and fry the pooris on low heat  till golden brown in colour.drain on tissue paper  and serve.
Serving suggestions:-
serve with gravy wali aloo ki subzi OR  stuff kachori with beaten salted curd and tamrind and green chutney.
Note-These kachoris remain fresh for minimum 10 days.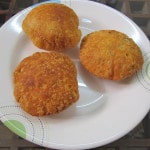 Print Recipe
Gujrati masala kachori (spicy, stuffed indian snack)