Green chutney-A fresh and healthy dip made from fruits, nuts and fresh herbs
Today I am sharing a very healthy chutney recipe .I have came across with this idea to get around the fuss my children make while eating fruits and nuts.
Since sandwiches are always a favorite among children,this is a a very easy way to get the nutrition to them.you need green chutney to make sandwiches so I am sharing very healthy and delicious green chutney which is made with green mint and nuts.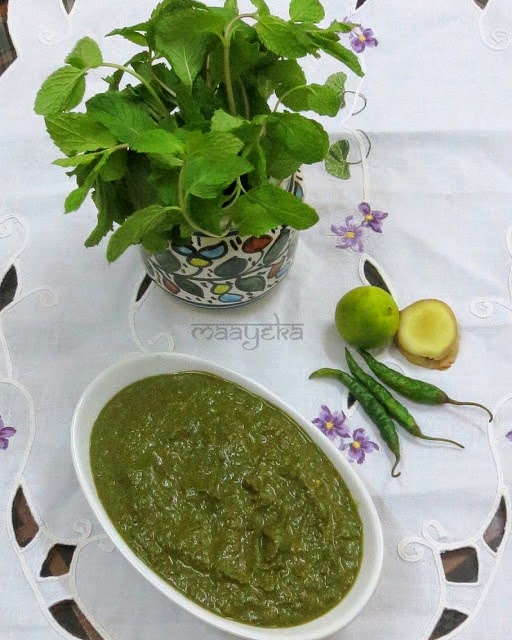 prep time-15 min 
serve-8
Kiwi fruit-1
Orange-1
Green grapes-1/2 cup
Dried blueberries-1 tbls
Dried cranberries- 1.5 tbls
Almonds-15
Mint leaves- 1 cup
Coriander leaves- 1.5 cup
Green chillies-3
Ginger-1/2  t.s
Lemon juice-1.5 ts
sugar-1/2 t.s
Cumin seeds- 1/2 t.s
Black salt- 1/2 t.s
Salt-1/2 t.s
PROCEDURE:-
Peel and chop kiwi and remove seeds from orange segments(you can also use sour or over ripe kiwi for this)
Wash and chop mint ,coriander and chillies.
Take a mixer jar, add almonds, blueberries, cranberries,grapes, chillies, ginger and orange and grind for 1 minute.
Then add all the spices, lemon juice, kiwi ,mint and coriander and grind till smooth.
Add very little water if needed.
Store in a jar and keep refrigerated.
serving suggestions-serve as a dip with any snack  or as a side dish .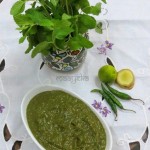 Print Recipe
Fruit and Nut Chutney ,Green chutney ,mint chutney ,Phalhari Chutney