Rajasthani daal aur khooba roti -Mildly spiced mix lentils with a special Indian flatbread – specialty of Rajasthan (India)
Rajasthani daal aur Khooba roti is a specialty of Rajasthan which is made with whole wheat flour.The half cooked roti is pinched all over to make indentations and then cooked again on slow flame.
Traditionally it is cooked on charcoal fire but we can cook it on gas stove too.When the roti is cooked completely it is smeared generously with melted ghee/butter so that the indentations are filled with ghee.
Traditionally this roti is made much thicker and bigger then the regular roti but as no body in my home likes so big and thick roti so I make it smaller and thinner but from this, you can get the idea of how to make it and so make it according to your preference .
This Rajasthani Daal  khooba rotiis a combination of 3 different lentils boiled together, then all the spices are fried in ghee and mixed in the daal and then the daal was simmered on low flame and then a final tempering of ghee ,cumin and chili powder is done before serving:)
Do try these delicious daal recipes-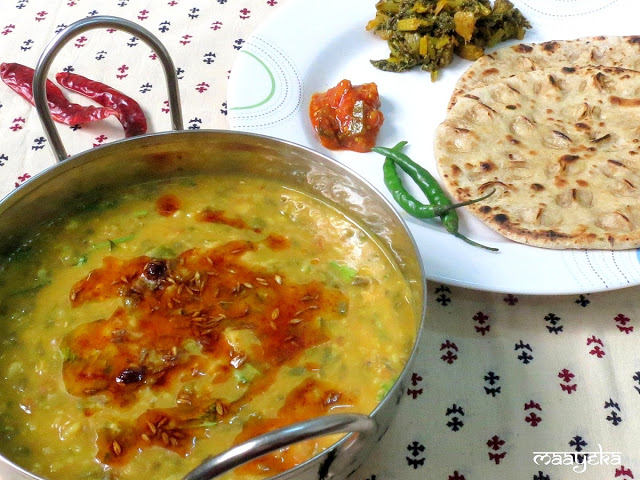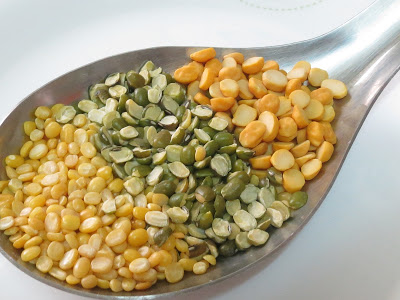 INGREDIENTS-(serve -4)
Split whole green lentils-3/4 cup
Yellow lentils /moong daal -2 tbsp
Bengal gram /chana daal – 2 tbsp
Turmeric /haldi -3/4 tsp
lemon juice /nimbu ras -1 tbsp
Fresh coriander /hara dhaniya -1/4 cup
Tempering-
Chopped tomato-1 cup
Chopped ginger-1.5 tbsp
Green chili-1tbsp
Chili powder-1/2 tsp
Coriander powder-1 tsp
Cumin seeds-1 tsp
Asafoetida-1/2 tsp
Whole red chilies-2
Salt-1 tsp
PROCEDURE –
Wash and soak all the 3 lentils in 2 cup water for 15 minutes .
Add the soaked lentils along with the water and pressure cook for 1 whistle( or till cooked) on medium flame(don't over cook it)
Heat ghee in a pan,add cumin seeds,asafoetida and whole red chilies.
Now add chopped green chilies,ginger and tomatoes,then add salt  and cook till tomato become soft and mushy.
Now add turmeric,coriander powder and chili powder,mix and cook for few minutes.
Add this tempering in  the boiled daal and add approx 1.5 cup of hot water,mix cover and cook on low flame for 5 minutes.
Add lemon juice and fresh coriander.
Before serving  -heat 2 tsp ghee in a small pan add 1/3 tsp of cumin
seeds ,when become golden in colour ,remove from the flame and add
kashmiri chili powder and pour over the hot daal.
Serve hot with khooba roti,salad and pickle.
KHOOBA ROTI
INGREDIENTS-
Whole wheat flour- 3 cup
Melted ghee or oil-6 tsp
Salt-1 tsp
PROCEDURE-
Take wheat flour in a big bowl,add salt and melted ghee,rub and mix well.
Now add water and make a medium soft dough,cover and rest for 10 minutes.
Take a small ball from the dough and dust with dry flour.
Make a medium thick chapati with a rolling pin.
Place this on a medium hot griddle and cook slightly from one side till colour changes slightly(kacha pakka)
Now remove the roti (flat bread)from the griddle and take it on a plate.
Pinch the roti all over in a circle using your thumb and finger,as shown in the picture to make indentations.
Now again place it on the gridddle and cook from both the sides on medium heat.
Now remove from the gridlle and cook directly on open flame on low heat
Cook till golden spot appears on both the sides.
Generously smear with ghee all over:)
Serving suggestions-serve rajasthani daal with khooba roti, salad and pickle.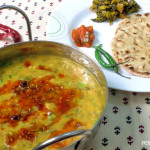 Print Recipe
Rajasthani Daal with Khooba Roti