Suran Kofta- Yam koftas cooked in tangy tomato sauce
Yam/suran/jimikand is an edible tuber vegetable like sweet potato and potato. It have hard and rough brown skin and yellow or cream white flesh.The shape and size resemble the foot of an elephant hence given the name Elephant foot.You have to be careful while peeling the skin or else you can have itching in your hands so it is advised to apply some cooking oil on your hands before slicing suran.
Yam is high in carbs,have good amount of omega 3 fatty acids,good amount of fibre,promotes weight loss, reduce the level of cholesterol and increase estrogen level in women.
This suran kofta curry is a delicious curry, to make it boiled yam /suran is mashed and mixed with besan and spices and then the koftas are deep fried and added in tomato curry.
If you like yam then check dry suran curry recipe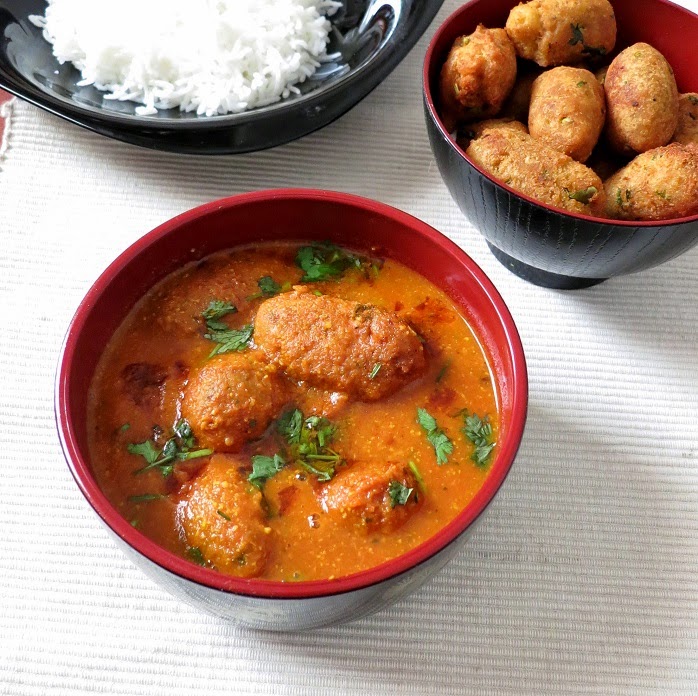 Prep time-20 min
Cooking time-20 min
Cuisine -North Indian
Type-side dish,curry
Serve-4
INGREDIENTS-
For making kofta-
Yam/Suran/jimikand/Elephant foot-300 gms
Gram flour/Besan- 1/2 cup
Garam masala-1/2 tsp
Ginger/adrak,grated- 1tsp
Raisins/kishmish,chopped- 1 tsp
Cashew/Kaju ,chopped- 6
Fresh coriander,chopped- 2 tbsp
Green chili/hari mirch,chopped- 1 tsp
Chili powder/lal mirch- 1tsp
Asafoetida/hing-1/4 tsp
Salt- to taste
Gravy-
Tomato,chopped-5
Cashew nuts/kaju- 10
Kasoori methi- 1tsp
Jaggary or sugar- 1tsp
Chili powder/lal mirch- 1tsp
Coriander powder- 1tsp
Turmeric/haldi- 1/3 tsp
Garam masala- 1/2 tsp
Salt- to taste
Tempering-
Cooking oil- 2.5 tbsp
Cumin seeds/jeera- 1tsp
Green cradamom/hari elaichi-3
Cloves/laung-2
Cinnamon/daalchini 1/3 inch
Asafoetida/hing- 1/3 tsp
PROCEDURE-
Apply some oil on your hands and then peel the yam.
Now wash yam and make big slices of about 2.5 inches each.
Add the pieces in the pressure cooker and add a glass of water .
Pressure cook on on medium heat for 2- 3 whistles or cook till just done.
Drain the pieces and let them cool down completely.
Mash the yam pieces and add all the ingredients for making kofta in it and mix well.
Grease your palms and make round or oval shape koftas of medium size.
Heat oil in a deep pan and when it become hot add the koftas.
Now fry the koftas on medium heat till golden in colour ,drain and keep aside.
Gravy-pressure cook tomatoes and cashews for 3 whistles on medium heat,no need to add water.
Now puree the boiled tomato and cashews and make a smooth and fine paste.
Heat 2 tbsp of oil in a pan and add cumin seeds.
Then add cradamom,cinnamon and cloves and saute till cumin become golden.
Now add tomato puree,turmeric,chili powder and coriander powder.
Cook till oil start seperating from the masala.
Add 2 to 2.5 cup of water,kasoori methi ,jaggary and salt and simmer for 5-7 minutes.
Now add fried koftas and simmer for 5 minutes.
Garnish with fresh coriander and serve  hot.
Serving suggestion- serve with cumin rice,pulao and parathas .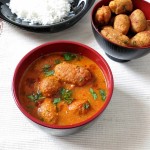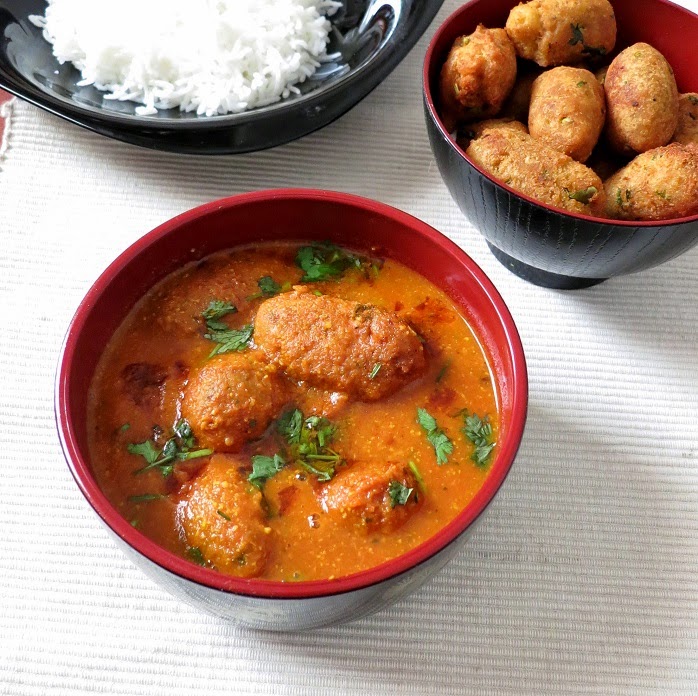 Print Recipe
Suran Kofta Curry