Raw mango and green chili pickle-Instant recipe
Summer arrives and we all start making pickles and different types of preserves.The hot favourite is raw mango pickle,every one have their own recipe to make pickle,some follow their family recipe,some experiment with new spice combination and methods.I usually make mango pickle in big batches which easily last for a year.My favourite pickle is Marwari chick pea and mango pickle and sweet and sour Aam ki launji  is my favourite but my daughter loves the Punjabi Mango Pickle,so I make both during the season.
But some times I also make instant pickle in small quantity to change the taste.Instant mango pickle is very easy to make by using ready pickle masala.I have also posted the recipe of making Gujarati pickle masala which comes very handy to make any instant pickle. If you want to save the time of making pickle masala then readymade pickle masala of good brands are also very easily available in the market you can use them too.try this Instant mango and chili pickle and you surely love it.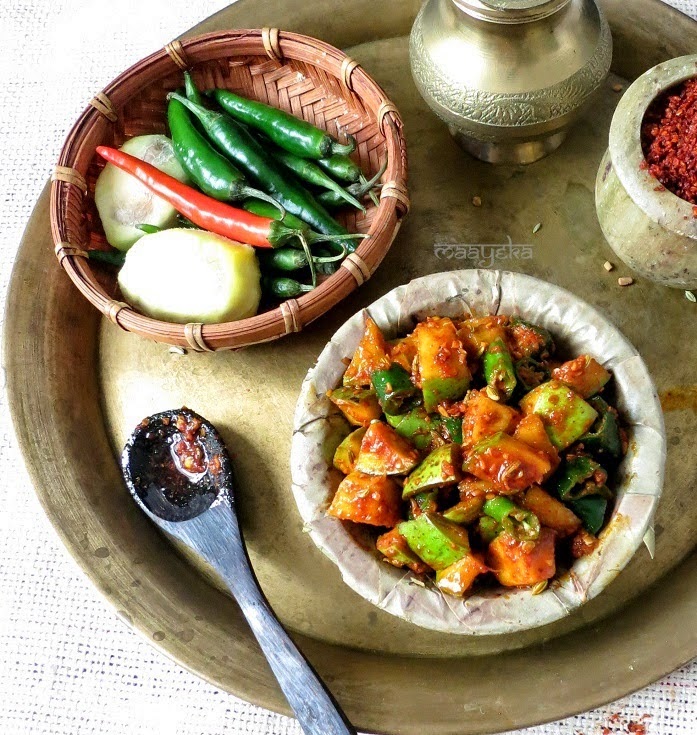 Prep time-20 min
Cuisine-Indian
Type- pickle
Yield-3.5 cup
INGREDIENTS-
Raw mango-450 gms
Green chilies- 100 gms
Readymade pickle masala-6 tbsp
Fennel seeds/saunf, slightly crushed- 1 .5 tsp
Asafoetida /hing- 1/4 tsp
Red chili powder- 1tsp
Turmeric-1/2 tsp
Mustard oil- 1/4 cup
Salt- 1.5 tsp(to taste)
PROCEDURE-
Wash and wipe raw mangoes and green chilies.
Chop mangoes and chilies in small pieces.
Heat mustard oil to a smoking point .
 When it cool down slightly then add asafoetida and fennel seeds.
Take the chopped mango and green chilies in a bowl.
Add all the powdered spices and mix well.
Now add oil (when it come to room temperature) and mix again.
Store in a glass jar and wait for minimum 6 hours or a day.
Keep refrigerated after 3-4 days.
Serving suggestions- serve with poori, paratha, rice daal combo or with curd rice.
Note-
1-you can add 1 tbsp of jaggary in it if you want to make it sweet and sour.
2-If the mango peel is very thick or bruised then you can also peel the mango.
3-If making in large quantity and don't want to refrigerate then add enough oil to cover the pickle.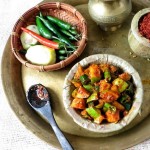 Print Recipe
Instant Mango and Chili Pickle