Methi Dana Sprouts- How To Grow Methi Dana Sprouts/ Fenugreek seed sprouts.
Fenugreek seed or Methidana is a golden colour tiny seed which is extensively used as a spic in Asian countries.It is mainly used in tempering or in making pickles .Methi have numerous health benefits so used in making many Ayurvedic medicines.
Methi seeds are very good for cardiac health as it prevents the absorption of cholesterol and controls triglycerides . Helps to control heart rate and blood pressure.
The natural fiber which is present in this tiny seed slow down the sugar rate absorption in the body. Fenugreek is very rich in antioxidants and fiber so help to flush out the toxins from the body and also aids digestion, gives relief from gastric troubles and inflammation.It also have anti viral property so relieve from cold and sore throat.
Fenugreek seeds have so many health benefits but is slightly bitter in taste so it is a good idea to sprouts them as sprouting makes it taste less bitter and also enhance the health benefits and makes it more easy to digest.Sprouting fenugreek is every easy, it can take about 3 days to get nice sprouts from the seeds(the 1st pic) and if you can wait for about 5-6 days then you will get beautiful sprouts with tiny green leaves (2 nd pic)but the timing also depends on the climate .
Just remember to soak and wash them well else they can become slimy and smell bad. After you get beautiful healthy Methi dana sprouts you can use them in many ways ,I have posted the recipe of making Fenugreek sprout stir fry and few more recipes will come  soon till then make your batch of Methi dana sprouts and wait for the recipes 🙂
You can also check these healthy recipes-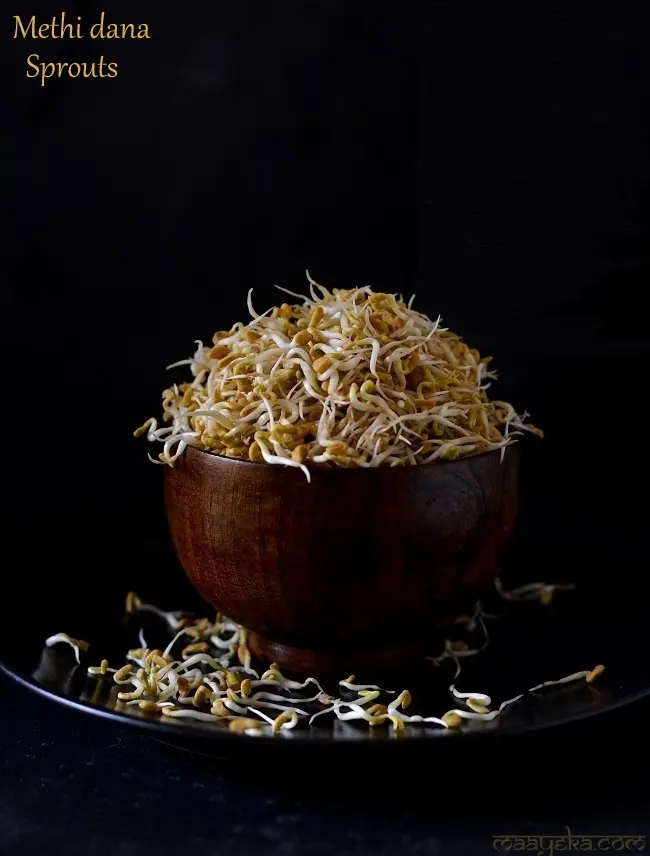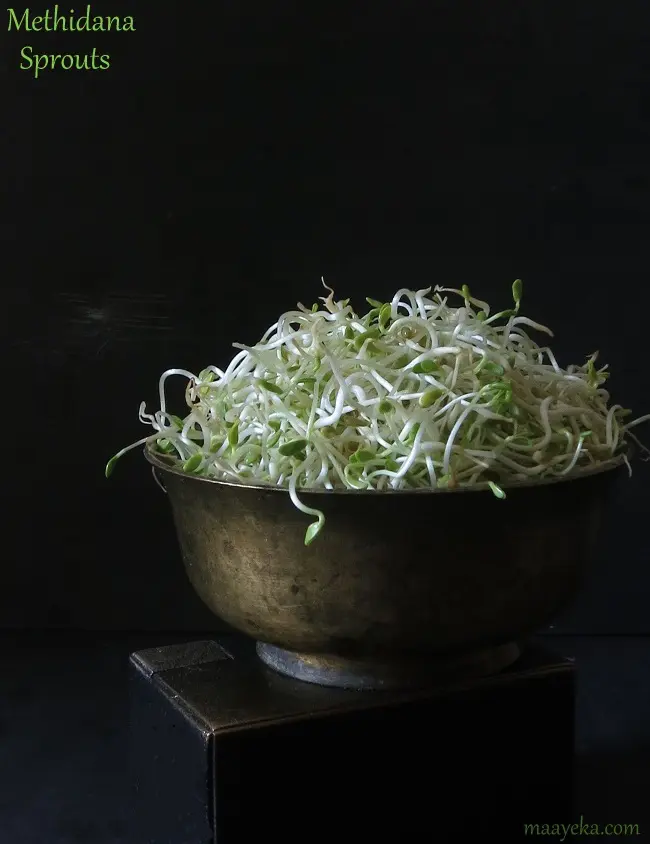 ★ Have you tried this recipe? Click on the stars ★ in the recipe card to let us know your feedback!  If you tried it then You can also click the recipe pic and share on Instagram with hashtag #maayeka
You can also follow me on Pinterest , Facebook ,Twitter,    Instagram and You Tube for more delicious recipes and updates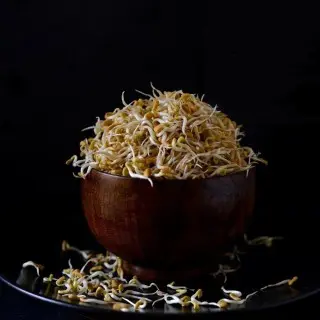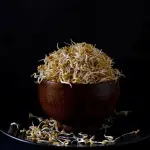 Print Recipe
How to Grow Methi dana sprouts/ Fenugreek sprouts
How To Easily grow Healthy Fenugreek seeds sprouts/ Methi daba Sprouts
Ingredients
1/2

cup

Fenugreek Seeds / Methidana

4

cups

Water / Paani
Instructions
Wash fenugreek seeds with enough water.

In a big bowl add water and fenugreek seeds and soak over night.

Drain the water in the morning and rinse well 2-3 times with enough water.

Now put the soaked seeds in a colander and keep covered for a 3 days.

Keep washing and draining the seeds once in a day.

If you don't have a colander then can also loosely tie them in a muslin cloth and hang somewhere in the kitchen.

After 3 days you can see tiny sprouts coming out from the seeds.(1st pic )

If you grow them further for about 5-6 days then they become longer and grow few tiny green leaves on top of the sprouts.(2nd pic )

But do remember to wash them daily.

Keep the sprouts in a airtight box in the refrigerator,easily stays well for a week.