Mixed lentils cooked with select vegetables and spices with wheat and gram flour flat bread – from Uttar Pradesh (India)
Punchmel daal is a specialty of the state of Rajasthan,though Daal is a favourite of every Indian family.Every state have their special favourites and different way of making daal
Panchmel daal- is again a very popular combination of mix daal and missi roti (tik-kar) which is very popular in Uttar Pradesh and Rajasthan and a very favourite combo meal of my chaturvedi community.
To make panchmel daal Selected five lentils are cooked with few vegetables and spices and served with a dry potato subzi,pickle, green chutney and missi roti / tikkar(tik-kar).Addition of five lentils gives it the name panchratna. I have also posted
Rajasthani daal with Khooba roti
,
Daal Punchwati
,
daal tadka
,
Daal makhni
and few more in my blog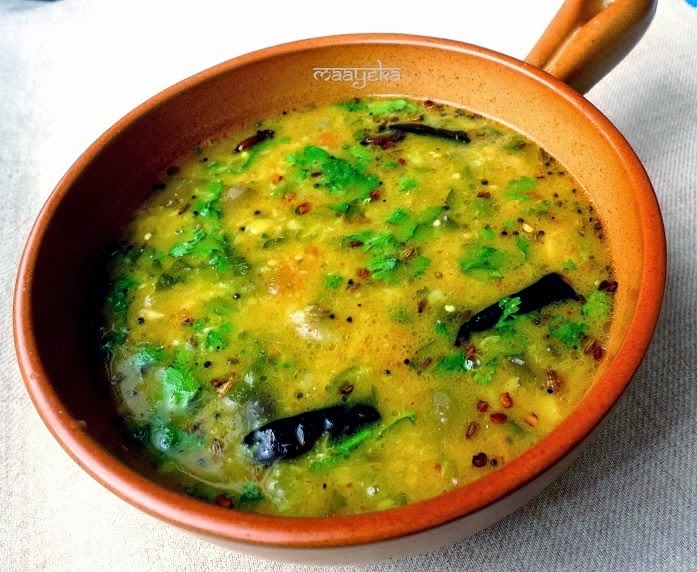 Prep time- 15 min
Cooking time- 40 min
Cuisine-Indian,Rajasthani
Type-main
INGREDIENTS-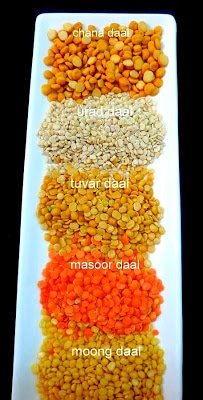 Daals (Lentils)
Bengal gram(chana daal)-1/4 cup
Yellow lentil(moong daal)-1/4 cup
Pigeon peas(tuvar daal)-1/3 cup
White lentil(urad daal)-1/3 cup
Red lentil(masoor daal)-1/4 cup(optional)
Vegetables-
Spinach/palak-100 gms
Potato/Aloo-1 medium
Tomato-2
Green peas/Matar-2.5 tbsp
Chopped brinjal-1/2 cup
Karonda -1/4 cup*
Green chillies-4
Ginger/ adrak-1 inch
Fresh coriander/dhaniya-2 tbsp
Lemon juice-1 tbsp
Spices-
Turmeric/haldi-1/2 tsp
Chilli powder/lal mirch-1 tsp
Coriander powder/dhaniya-1 tsp
Garam masala-1/4 tsp
Black salt/kala namak-1/4 tsp
Salt-1tsp
Tempering-
Ghee or butter-2.5 tbsp
Cumin seeds/jeera-1/2 tsp
Mustard/rai-1/2 tsp
Fenugreek seeds/methi dana-1/4 tsp
Fennel seeds /saunf-1/4 t.s
Whole red chillies-4
Asafoetida/hing-1/3 tsp
Cloves/laung-3
PROCEDURE–
Mix all the lentils in a bowl and wash properly,then soak in water for 20 minutes.
Pressure cook for 2 whistles with 1.5 cup water on medium heat .let it cool down completely.
Open the cooker, mix the boiled lentils gently and then add all the chopped vegetables and spices except lemon juice and fresh coriander. mix well.
Add 3.5 cup warm water and let it boil on medium heat for 20 minutes.can add some more water if needed.
Make the tempering-heat ghee in a small pan add fennel cumin,mustard ,fenugreek seeds,when it start crackling add whole red chillies ,asafoetida and cloves.
Pour in the boiling daal (lentils) and switch off the fire.
Add lemon juice and fresh coriander.
Serve hot with steamed rice and missi roti(or with multi grain roti)
MISSI ROTI / TIKKAR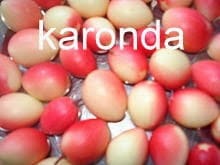 Note-
1-* Karonda- is called Vakkay in telugu,Kalakai in Tamil,Bengal currant and christ's thorn in South India,you can substitute this with star fruit or just use lemon juice
2-You can also make this without adding vegetables but addition of vegetables make it more healthy and delicious.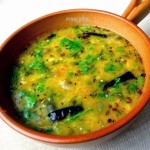 Print Recipe
Rajasthani Panchmel Daal /Panchratna daal / Mixed Daal