Tangy green tomato stir fry
During winters vegetable markets are flooded with so many colorful and healthy vegetables .We get different varieties of fruits and vegetables to enjoy.This is the best time to make fruit preserve, jam etc for the yearly supply.
Good quality Tomatoes are also available during this season and as my family loves tomato relish and chutneys so I often make different types of tomatoes chutneys to serve with stuffed parathas and as a side dish with main course-Sweet tomato chutney goes very well with stuffed parathas so I always make a big batch of this so it stays in stock for the whole winter season,  Tomato and peanut chutney is a nice accompaniment to serve with Idli and dosa so is also made on regular basis at my place.
Last week I brought a bag of tomatoes to make Tangy Tomato thokku which is a south Indian style chutney but I got a lot of green tomatoes in that bag so I made this hare tamatar ki achari sabzi which turn out very delicious and every one at home loves it.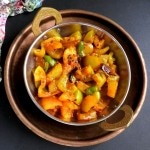 Wash and chop tomatoes in medium size pieces.

Heat oil in a pan and add all mustard seeds,fennel and fenugreek seeds.

When seeds start crackling add asafoetida,dried red chilies and chopped green chilies.

Stir fry for few seconds.

Now add turmeric ,chopped tomatoes and salt.

Mix and cook it covered for 2 -3 minutes on medium heat.

When tomatoes get cooked but remains crunchy then add chili powder ,pickle masala and jaggary.
Serving suggestions- serve as a side dish with main course or as a  pickle with paratha or rotis.
NOTE-
You can add sugar instead of jaggary.
Pickle masala is optional you can make without adding it too.
You can also make it softer and mushy if you like.
There is no Nutrition Label for this recipe yet.