Vada Pav- An Indian version of burger – very popular street food of Mumbai
Vada pav is the popular street food of Maharashtra. As it is very reasonable priced and a quite filling snack so is is also a brunch or lunch of many Mumbaikars. It is quite easy to make and you will also get all the ingredients easily at home.A spiced potato dumpling is dipped in gram flour batter and deep fried to a nice golden colour and then served hot with spicy green chutney and a fried green chili.Its quite easy and quick recipe.You can easily adjust the spices according to your taste in vada pav
There are few variation of making the batata vada but the main ingredients and spices remains the same.You can adjust the spices according to your taste.
You may also like these delicious recipes-
.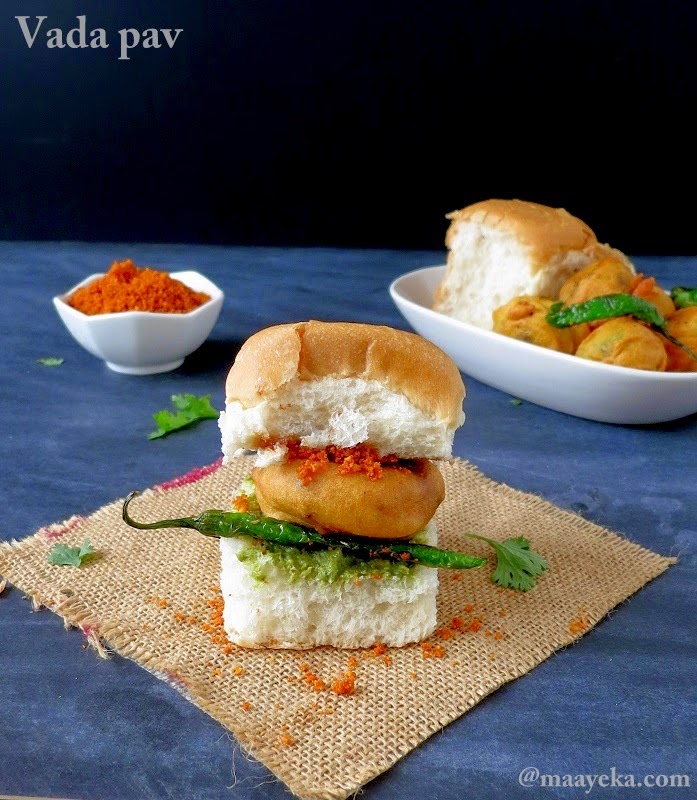 Prep time – 10 min
Cooking time -15 min
Difficulty level – medium
Spice level-medium hot
Cuisine – Indian,Maharashtra
Type – snack,street food
INGREDIENTS
6  – Pav buns (recipe here )
6 –
Batata Vada (recipe here )
4 tbsp –
Green chutney (recipe here )
4 tbsp –
Tamarind chutney (recipe here )
4 tbsp –
Dry coconut chutney (Recipe here )
6  – Green chilies
1 tsp –
Chat masala
Cooking Directions
Take a pav bun and slit it from the center but keep attach from the end.
Poke the whole green chili and deep fry or shallow fry in hot oil
Remove chili from the Pan and sprinkle some salt or chat masala and keep aside.
Apply some green chutney on the inner side of the pav.
Apply tamarind chutney on the second half of the bun.
Slightly press the vada pav and stuff in between the pav.
Sprinkle dry coconut chutney over the vada pav.
Close the bun and serve with fried green chili.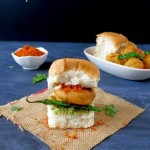 Print Recipe
How to make vada pav /Vada pav recipe