Mumbai Pav Bhaji- A spicy and tangy mix vegetable mash- A popular street food of Maharashtra
Mumbai Pav bhaji is the most popular street food of Maharashtra but now its loved by each and every one all over India.Its quite a healthy dish as its a medley of so many vegetables. Though the street vendors makes it with a generous amount of butter to enhance its taste but if you make it at home then you can surely make it with less amount of oil and butter.
This street food is very good for children if you make it at home.You can also add soaked,boiled and crushed soya granules, boiled dried peas or chickpeas in it to give smoothness and thickness and to add nutrition.
The star ingredient of pav bhaji is obviously the addition of Pav bhaji masala so don't skip it and try to use a good brand as it makes a lot of difference in the taste. I personally like Everest brand Pav bhaji masala but you can use your favourite brand.
Try these delicious street food of India-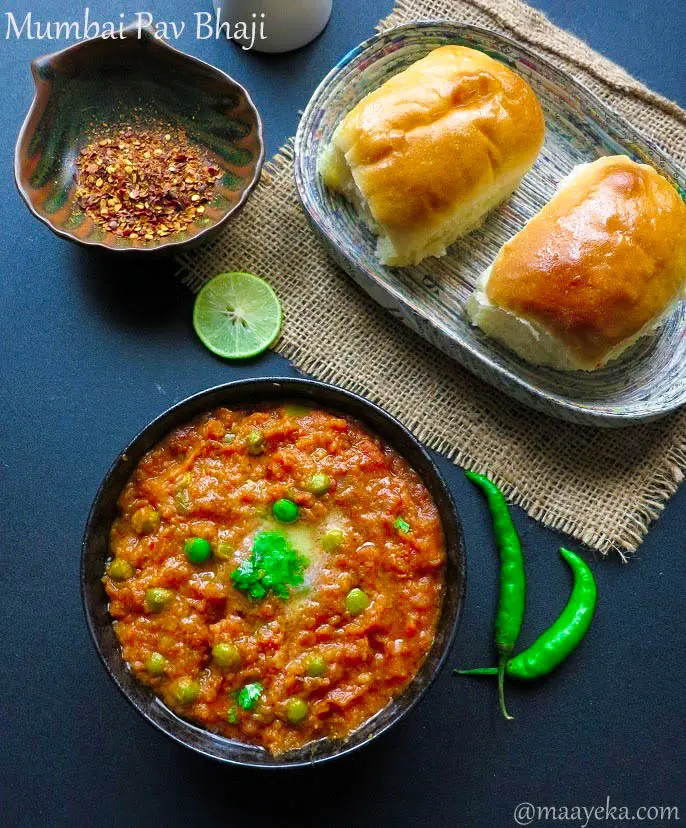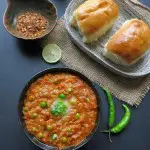 Print Recipe
How To Make Mumbai Pav Bhaji ,Pav Bhaji Recipe
Pav Bhaji - A popular street food from Mumbai ,made with mashed vegetables in a tangy spicy tomato gravy
Ingredients
400

gms

Tomatoes / Tamatar

chopped

500

gms

Potatoes / Aloo

275

gms

Bottle Gourd / Lauki

optional check notes.

120

gms

Carrot / Gajar

250

gms

Purple Cabbage

optional

250

gms

Cauliflower /phool gobhi

3

medium

Bell Peppers / Capsicum / Shimla Mirch

1/3

cup

Green Peas / Hari Matar

boiled

1

tbsp

Ginger / Adrak

grated

3

tbsp

Fresh Coriander / Cilantro / Hara Dhaniya

3

tbsp

Lemon Juice / Nimbu Ka Ras

1.5

cup

Water / Paani

4

tbsp

Butter, Unsalted / Makkhan

1

tsp

Turmeric Powder / Haldi Powder

2.5

tsp

Kashmiri Chilli Powder

3

tbsp

Pav Bhaji Masala

1/4

tsp

Black Salt / Kala Namak

To

taste

Salt / Namak

4

tbsp

Dried green peas

Soaked overnight
Instructions
Peel potato and bottle gourd and chop in medium size pieces. Scrape and grate carrot and keep aside.

Chop tomato and crush to make a paste(this is optional, you can also use chopped,but pureed tomatoes give a nice color so I prefer this way )

Chop capsicum, purple cabbage and cauliflower in small pieces.

In a pressure cooker add chopped potato, soaked dried green peas(vatana)bottle gourd, grated carrot, cabbage, cauliflower,1.5 cups of water and pressure cook on medium heat for 4 whistles.

When cooker cools down completely then mash the vegetables with a potato masher or ladle, avoid making smooth puree with a hand blender

Heat oil in a pan and then add butter ,when it become warm then add chopped capsicum and saute on medium heat.

When capsicum change its colour then add grated ginger and tomato puree. Cook on medium heat, keep it covered with a plate to avoid it spluttering all over.

When it starts to thicken then add 1 tbsp of butter, boiled green peas ,all the dry spices, and keep stirring it till oil start leaving from the sides.

Now add the mashed vegetables and mix it well.

If you want then you can add some more hot water in it to adjust the consistency according to your choic

Cover the pan and let it simmer on low heat for 10 minutes.

Cover the pan and let it simmer on low heat for 10 minutes.

Serve hot with roasted buttered pav.
Notes
How to serve-
Slit the pav from the center.
Heat some butter on the tawa/griddle and sprinkle some chili powder and a pinch of pav bhaji masala  and immediately keep the slit pav over it.
Press the pav slightly  and cook for few seconds from both the sides till they turn crisp and hot.
Remove from the tawa and apply some butter on top of the pav.
Serve bhaji with a dallop of butter,hot roasted pav, some deep fried green chilies and a wedge of lemon.
Though the list of vegetables is quite long to use in pav bhaji but the main ingredients are - capsicum, potato,peas, tomatoes and pav bhaji masala, all the mix vegetables are added to give texture and volume to the bhaji .
You can also add some soaked and boiled dried green peas or chick peas/chholey at step -5 to give thickness to the bhaji ,many restaurants and street vendors use it.
You can also add french beans, peeled brinjal, a slice of beetroot and yellow pumpkin in the bhaji.
The ratio of potato,tomato and all the mix vegetables are approximately 1:1:1 ,but as I don't want to add too much potatoes so I have used some bottle gourd in it ,you can also use yellow pumpkin or squash instead (or increase the quantity of potatoes) their will be no change in the taste and will be more nutritious.
I have used purple cabbage instead of green cabbage because its more nutritious then green cabbage and most of the children avoid eating it due to its colour so its a good idea to hide it in pav bhaji and it also give a nice dark colour to the bhaji ,so I prefer it but you can easily use green cabbage instead or can use only cauliflower.
The quality of pav bhaji masala is also very important so either use home made pav bhaji masala or choose a good brand of ready made masala .I have used -Everest pav bhaji masala.but don't skip adding this masala.
Kashmiri red chili powder is used to give a nice red colour to the bhaji but if it is not available then can use regular chili powder but do reduce the quantity according to its heat.
To make it more healthier for your kids you can also add soaked ,boiled and coarsely ground soya nuggets into it.
Quick Version- - Many times I just reverse the method -First I make the tomato masala in the pressure cooker then add all the chopped vegetables and water in the pressure cooker ,pressure cook for 4 whistles,mash the bhaji ,add lemon juice and coriander and serve.I really prefer it this way!