Dried black peas curry  in tangy coconut and tomato sauce – A Malwani speciality
kala vatana or dried black peas is a speciality from the Malvan region of Maharashtra.The curry is made mainly with coconut  and tomatoes ,The popular Maharashtrian Goda masala is the key ingredient of this kala vatana amti ,But If you don't have goda masala then can use garam masala instead.
This kala vatana amti is specially made during Ganpati pooja festival and offered as Naivaidhya on Ganesh Chaturthi.In Maharashtra this curry is called as kalya vatanyachi amti .This amti goes very well with rice flour poori or paratha ,but I love this with steamed rice or yellow rice.You can skip adding tomatoes and can make only with coconut and tamarind,adding tomatoes or not depend on individual choice but coconut can't be skipped as it is main ingredient.
Dried Black peas are totally different then the dried kala chana.They are quite smaller in size as compared to dried yellow and green peas. kala vatanas are hard so takes quite a longer time to cook then the dried green or yellow peas but after it gets cooked properly the taste and texture is better than the Kala chana .They hold their shape well after boiling,they didn't turn mushy like dried yellow peas. Do use a pressure cooker to boil them ,pan cooking will take a quite longer time .
I love Maharashtrian food and often make Kolhapuri Misal Pav,  My favourite snack – Vada Pav , Maharashtrian Green chili pickle, and the very popular street food – Mumbai Pav bhaji is made weekly as it's my family favourite dish.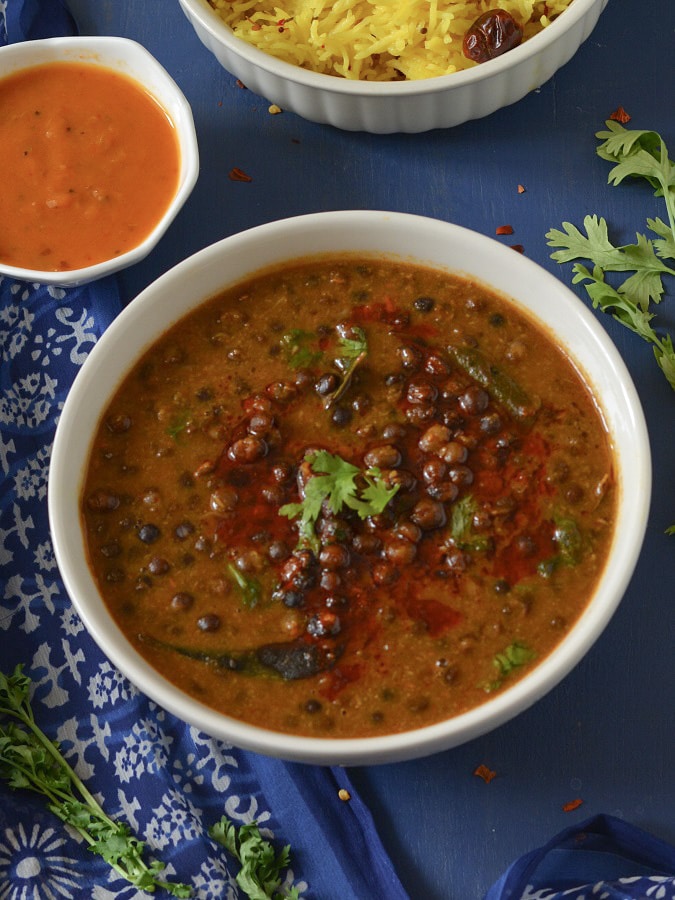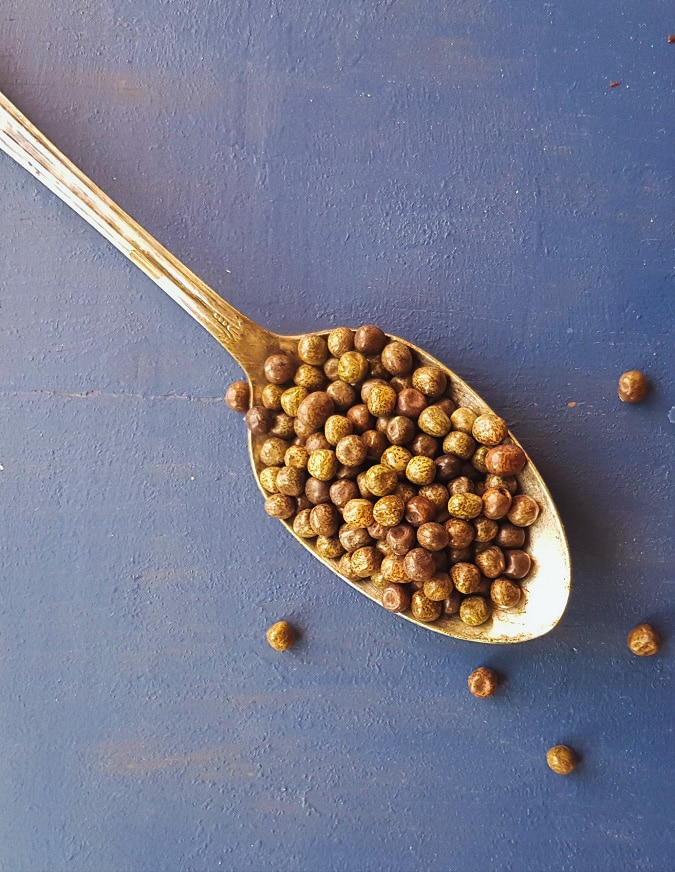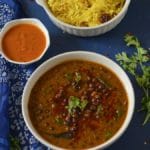 wash and soak black peas overnight or for minimum 10 hours. then wash them well 2 times with enough water.

Pressure cook the soaked peas with enough water for about 8-10 whistles on medium heat or cook till they become soft.

Take a heavy pan add coconut and roast on low flame for 2 minutes and keep aside. then grind in the mixer and make a smooth paste.

Chop and puree the tomatoes.

In a pan add the cooking oil and then add the tempering .

When cumin start to crackle add the pureed tomatoes and the dry spices and let it cook on medium heat till oil start separating.

Now add the coconut paste and stir to mix.

Add the boiled peas ,tamarind pulp ,jaggery and mix .add water to adjust the consistency of your preference.(the curry is of medium thick cocnsistency)

Cover with a lid and simmer for about 8 minutes .

Add fresh coriander and serve.
Serving suggestions- serve with Bhakri,roti,rice flour poori or steamed rice
There is no Nutrition Label for this recipe yet.