Crispy Spiced Potato wedges- a delicious all time favorite potato snack
Potato wedges are fast becoming the new french fries. Which in many ways is like bringing the old ways back. As a child, I've never had french fries in my village. Potato wedges and potato wafers were the only two options that used to exist back then.
We all will agree that Potato is undoubtedly the most popular and favorite vegetable all over the world. You can boil , steam, fry, saute or just mash it and it turns awesome every time. Kids or adults everyone just loves potatoes. Potato is the only vegetable which goes well with almost every vegetable. I recall reading a poem in hindi about aloo's ability to get along with all vegetables – unfortunately can't recall the poem now. If you know it – please let me know in the comments 🙂
Fried potatoes in different forms, are a favourite snack across all ages. French fries, potato wedges, batata harra, tater tots, tuk patata, potato wafers, hash browns, aloo sev, aloo bhujiya, aloo papad, honey chilli potatoes, potato rosti etc are several different ways that the humble potato is enjoyed across different parts of the world.
I tried this potato wedges recipe at home and it turn out just awesome. I have added a mix of spices but you can you whatever your favorite blend is or whatever is available at home. You can also make it with Indian spices, then just add pepper powder, salt and little mango powder.
Baked potato wedges–
If you want to avoid deep frying then you ahead and bake in an hot oven .
Slice the potato in wedges and mix the spices with add few tsp of olive or any cooking oil of your choice and coat the wedges in it .
Line the baking tray with an aluminium foil and arrange the wedges in a single layer.
Preheat the oven and bake at 250  degree for 25-30 minutes or till they turn golden and crisp.
If you are looking for some easy snacks then do try these-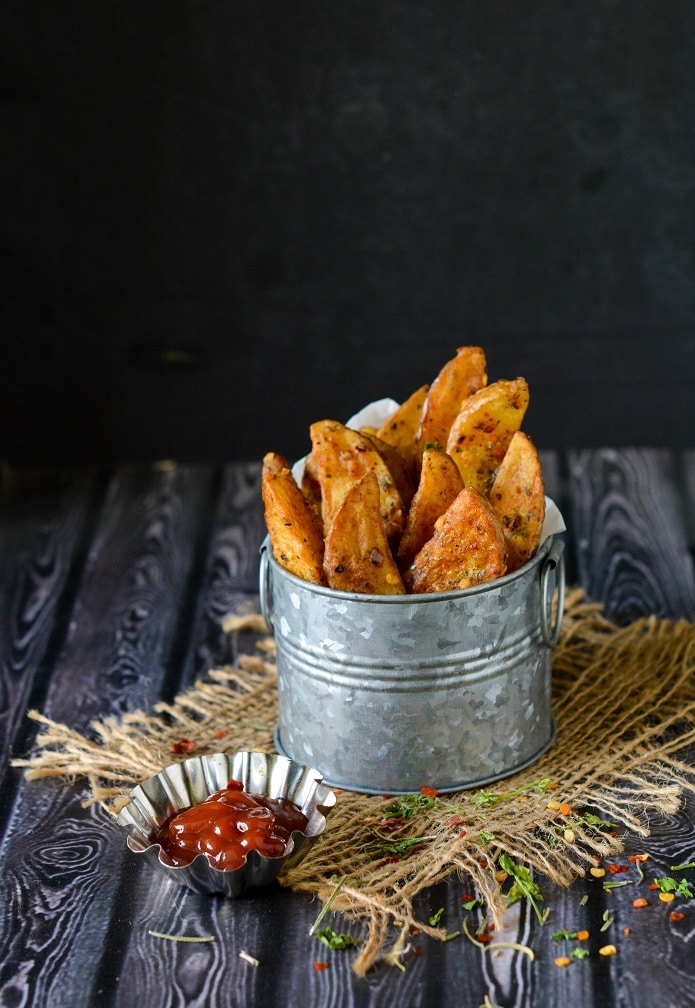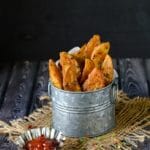 Rinse and wash the potatoes very well and then slice to make wedges (no need to peel the potato skin).

Take a big mixing bowl and add cornflour and all the spices and mix well.

Heat enough water in a big pan and add 1 tsp salt.

When water starts boiling add the potato wedges and boil for 5 minutes.

Drain and pour some tap water on the wedges to stop cooking further.

Add the drained potato wedges in the dry cornflour and spice mix and mix properly so all sides will coat with the mix.

Heat enough oil in a wide deep pan and heat on medium high.

Now gently add some fries in the hot oil, don't add too much in a batch.

Fry on medium to medium high flame so they will cook from the inside too.

When the wedges turn golden from one side then turn the side and cook from other side.

When they turn golden and crisp from both the sides then remove from the pan on a paper towel to remove the extra oil.

Serve the hot crisp wedges with a sauce or dip of your choice.
There is no Nutrition Label for this recipe yet.