Till ke laddoo
A sesame and milk based dessert – usually made on 'Makar Sankranti' – the Indian Festival to mark the Winter Solistice.
Happy Makar Sankranti!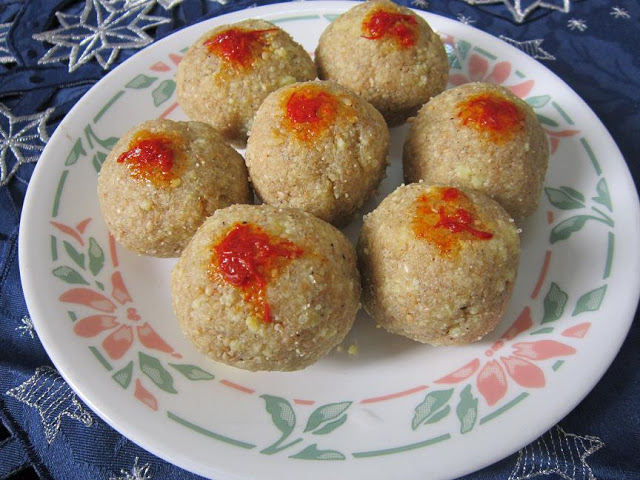 INGREDIENTS:
Mawa (Evaporated milk – Recipe below) – 2 cups
Sesame Seeds – 1.5 cups
Fresh Milk – 3 tblsp
Castor Sugar – 1.5 cups*
Cardamom powder – 1/2 tsp
Almonds – 4 tblsp
Saffron – 1/4 tsp
PROCEDURE:
Dry roast sesame seeds in a pan till they start crackling, coarsely grind in a mixer.
Crush the almonds.(or any other dry fruit of your choice. You may also skip adding nuts.)
Dissolve saffron in 1 tsp of warm milk.
Grate or mash the mawa and add the castor sugar, ground sesame, almonds, cardamom powder, and a few drops of milk and mix well .
If the mixture seems dry then you can add some more milk, few drops at a time.
Mix the mixture well, grease your palms and make small ladoos of the mixture.
Place in a plate and apply some saffron paste on the laddos.

*-you can adjust the amount of sugar according to your taste.
Instant Mawa Recipe:
Take 2 cups of full cream milk powder in a glass bowl, add 2 tbsp of ghee or butter in it and mix well. Add some water and make a soft dough. Cover and microwave for 1 minute. You may now mash or grate it and use it any dessert preparation.
Print Recipe
Till Ke Laddoo ,Sesame Fudge