Daal karela -Bitter gourd cooked with bengal gram and spices
Daal Karela is a healthy delicious easy recipe. Sliced bitter gourd is cooked with soaked and cooked chana daal. Deep frying the Karela slices is optional ,you can add them without frying also. Frying is done to remove the bitterness of Karela slices.
Then the Karela slices are added in the tomato masala mix and cook for few minutes. Can be served with roti or rice. This is a good healthy rice to pack in lunch box.
You can also try these Karela Recipes-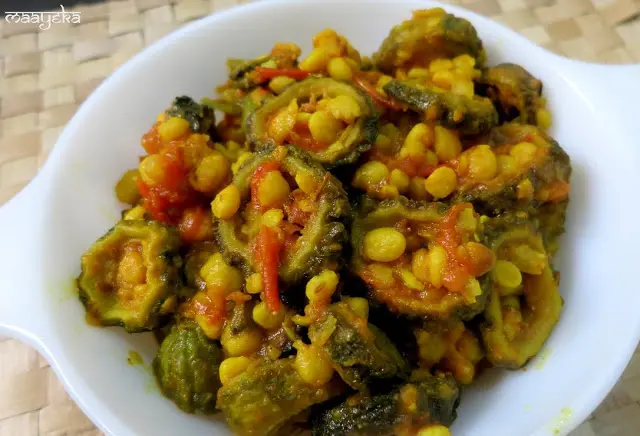 INGREDIENTS-
Bitter gourd-300 gms(4 medium size)
Chana daal( bengal gram)-100 gms
Tomato-2 medium
Red chilli powder-1 tsp
Turmeric-1/2 tsp
Sugar-1 tsp
Lemon juice-1 tbls
Salt-1tsp
Refined oil-2 tbls
PROCEDURE-
Wash and soak the chana daal in enough water for 20 minutes.
Pressure cook  for 2 whistles with a glass of water and 1/4 t.s turmeric (take care that the daal will cook but not become soft and mushy)
Lightly scrap the bitter gourd ,slice in roundels and soak in salted water for 20 minutes.
Drain and wash twice with enough water and then squeeze the water.
Spread and press on a towel to absorb the extra water .
Heat oil in a pan and deep fry the slices in batches to a golden colour on medium flame.
Heat 2 tbls oil in a pan and add chopped tomatoes and salt .cover and cook till become soft.
Now mash the tomatoes and add turmeric and chilli powder.
Fry for a minute and add 3/4 cup water .
When it start boiling add the boiled daal ,sugar and fried bitter gourd slices.
Cover and cook on low flame till done
Add lemon juice and mix.
Serve hot
Serving suggestions-serve with roti, rice or as a side dish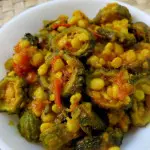 Print Recipe
Daal Karela , Bitter Gourd cooked with bengal gram