A sweet and sour curry of pineapple,bell peppers and cottage cheese –Chili Paneer manchurian


 INGREDIENTS-
preparation time-10 min
cooking time- 10 min
serve-4
Cottage cheeseor tofu,cubed- 1 cup
Pineapple,diced-3/4 cup
Red bell pepper,cubed- 3/4 cup
Green bell pepper,cubed-3/4 cup
Ginger chopped-1 tsp
Cooking oil-1.5 tsp
To make sauce-
Pine apple juice- 1 cup
Water-2.5 cup
Corn flour–3 tsp
Tomato ketchup- 2 tbsp
Soya sauce- 1tsp
Sugar-1.5 tsp
White vinegar- 1 tsp
Pepper powder- 1 tsp
Salt- 1tsp
PROCEDURE-
Take a big bowl and add all the ingredients for making sauce and mix well.(A)
Dust the paneer pieces with 1.5 tsp of cornflour and a pinch of salt and then shallow fry in 1.5 tbsp oil ,to a nice pink colour(don't over cook )-this step is optional,you can directly add the panner pieces without stir frying them
In a pan add oil,when it become warm add ginger and saute for few seconds.
Now add chopped bell peppers and saute for a minute.
Add paneer and pineapple pieces,saute for few seconds.
Pour the ready sauce(A)in the pan and cook  for 5-7 minutes on medium heat.
If you feel that the consistency of the gravy is still thinner then you can add some cornflour slury at this stage.
Switch off the flame and add vinegar and mix well.
Serve hot.
Serving suggestions-Serve with fried rice,steamed rice or noodles
sending to- Erivum Puliyum event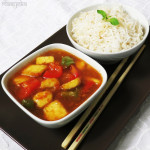 Print Recipe
Sweet and Sour Paneer (Chili Paneer Manchurian)