Kiwi and Coriander Rice- Healthy fruity rice made with kiwi and fresh coriander
Kiwi and coriander rice- Simple and mildly flavored Kiwi and Coriander pilaf  .Kiwi fruit is very good for health so I try to include it in my diet in different and interesting ways.
This time I made a exotic and mildly flavoured kiwi and rice biryani from a t.v show,which taste wonderful and is easy to cook. I have also posted a  Kiwi and Mint Chutney few weeks back ,which is also a big hit in my family
Do try these rice recipes-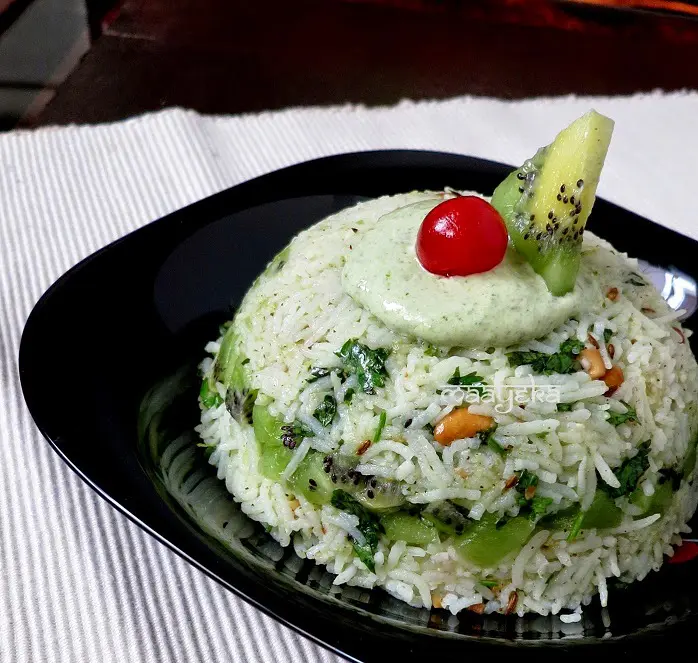 Preparation time-15 minutes
Cooking time- 5 minutes
Main course
Serve-4
INGREDIENTS-
Rice-3/4 cup
Kiwi Fruit -3
Green chilies,chopped- 1.5 tsp
Fresh Coriander,chopped- 3 tbsp
Lemon zest- 1/2 tsp
Lemon juice-1 tsp
Salt- to taste
Cooking oil- 2.5 tbsp
Cumin seeds- 1tsp
Cashew nuts,crushed- 2 tbsp
Curry leaves-6
PROCEDURE-
Wash and soak rice in enough water for 20 minutes.
In a big bowl boil enough water and 1 tsp salt,when water start boiling add soaked rice.
Boil rice till done and then drain on a colander to remove all the water.
Peel and chop kiwi fruit into small size pieces.
Take half quantity of kiwi and grind with chopped green chilies to make a smooth paste(can adjust the quantity of green chilies according to your taste)
Add some salt,pepper powder and few drops of lemon juice in the remaing half kiwi pieces.(A)
Heat oil in a pan and add cumin seeds .
When seeds start crackling add crushed cashews and saute for few seconds on low heat.
Add curry leaves,rice and salt(litle amount  of salt is needed as salt is also added while boiling)
Saute for few seconds and then switch off the flame.
Now add  the kiwi paste,lemon zest,fresh coriander and lemon juice in the rice and mix well.
Take a bowl and grease the inside of the bowl with ghee or butter .
Now fill it half with kiwi rice,press gently.
Spread the half kiwi mixture(A) over the rice layer.
Now put the remaining half rice over the kiwi layer and press gently.
Invert the bowl on the serving plate and serve.
Serving suggestions-serve with mint and yogurt dip or tomato salsa and chips.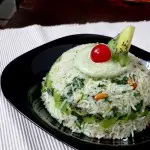 Print Recipe
Kiwi and Coriander Rice