Soft Idli Recipe -Steamed rice and lentil cakes-specialty from Southern India
Soft Idli recipe -Idli is the staple food of  Southern India but now very popular all over India. This is my favorite easy, quick, fat-free delicious breakfast/snack.
It is a vegetarian,gluten free and vegan breakfast recipes which can also be served for Lunch and dinner . It is also a good recipe to pack in lunch box or to carry on travel.
The main ingredients of making idli are white lentil/urad daal and rice but every family have there own recipe of making idli batter, the ratio of rice and lentil differs in each family's recipe. There are many tips for making soft and pillowy idlis but you have to try and make your own success recipe.
Today I am sharing the tips to make soft idli recipe which I learned from my mother and by my own experiences and trails and errors. I have tried many different ratios for making idli batter and got soft idlis with a little bit difference each time. so do try this soft idli recipe and you will surely like it.
After grinding keep the batter at a warm place for a easy fermentation. The batter will easily increase four times or more so make sure to keep the batter in a big vessel else it may over flow from it after fermenting.  Addition of methi seeds also helps in fermentation of the batter so don't skip it.
After trying the soft and spongy Set dosa  I tried those ingredients in idli batter and loved these soft idlis.
Do try these delicious recipes-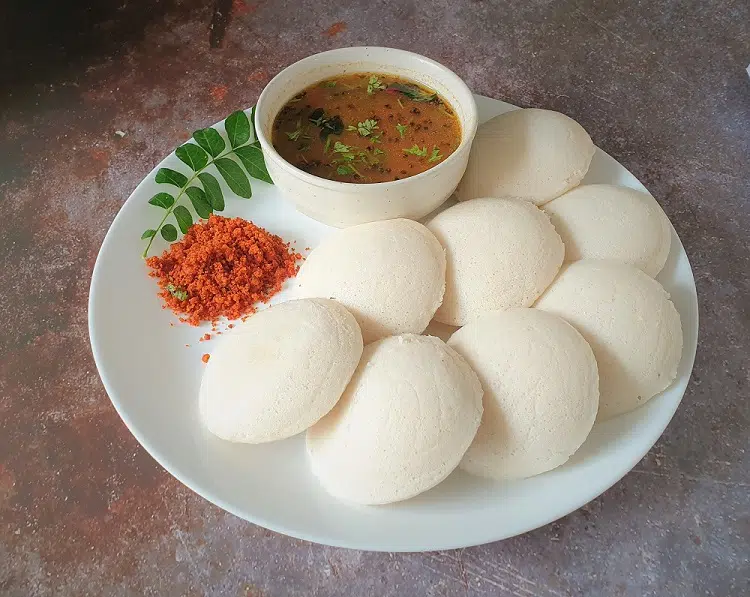 ★ Have you tried this recipe? Click on the stars ★ in the recipe card to let us know your feedback!  If you tried it then You can also click the recipe pic and share on Instagram with hashtag #maayeka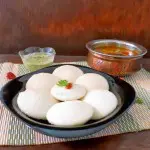 Print Recipe
Idli Recipe / How to make soft Idli Recipe
Steamed rice and lentil cakes - Specialty from Southern India
Ingredients
2

cups

Idli rice

2

cups

white rice

1

cup

Urad daal/White lentil

1

cup

Poha / Pressed Rice

1/4

cup

Tapioca Pearls / Sago / Sabudana

1/2

tsp

Fenugreek Seeds / Methidana

Salt / Namak

to taste
Instructions
Wash and soak rice and poha together in a pan in enough water for 4 hours.

Wash and soak urad daal,methi dana and sabudana together in enough water for 3-4 hours.*

After 4 hours grind urad daal mixture to make a smooth paste,it should be light and fluffy.For grinding use the water in which you have soaked the urad daal(don't throw that water).

Grind rice mixture to make a soft and smooth paste,use the water in which you have soaked the urad daal.

Now mix both the ground paste in a deep and big pan(as it will need room to ferment ,because it become minimum thrice in volume after fermentation,if you use small pan then it may spill out) add salt and 1/3 tsp soda (optional)and mix properly.

Add some water(in which you have soaked urad daal) and adjust the batter consistency,the batter should not be too thick or too thin,it should be of coating consistency(almost like batata vada batter).

Cover the pan with a lid(don't use airtight container) and let it ferment for 8-10 hours or depending on the climate(it will take longer time in winter season)

When it fermented properly it will at least become thrice in volume and you see bubbles on the surface of the batter.

Grease the idli mould with cooking oil and fill it with idli batter

Boil some water in the idli steamer,when water start boiling,then put the idli stand in the steamer.

Cover the steamer with the lid and steam for 10-12 minutes on high heat.

Switch off the flame and wait for 5 minutes then take out the idli stand from the steamer.

Wait for 3 -4 minutes to cool down it slightly and then scoop out the idlis with a wet spoon.

Serve hot with sambhar, rasam and coconut chutney
Notes
TIPS-
1. *Regular rice-you can use any rice which you normaly use on daily basis.
2. For grinding the batter use the water in which you have soaked the urad daal,it helps in fermenting.
3. The consistency/thickness of batter is a very important factor,as thin or thick batter result in hard and flat idlis.
4. Proper fermentation of minimum 7-8 hours is very important to get soft idlis and in winter it may need much more time .
5. The quality of rice and daal is also important,use idli rice or a mix of idli rice and regular rice.
6. When water in the steamer start boiling only then keep the idli mould inside it.
7. When the batter get fermented mix it very gently,just give it a stir,don't mix it to much otherwise the trapped air will be released from the batter and you will get hard idlis.
8. Don't try to scoop out the idlis immedietely after steaming,let it cool down slightly then scoop out with a wet or greased spoon then they come out very neat and smooth. otherwise you may get idli with rough edges.
9. You can easily store the leftover batter in the refrigerator for 4-5 days.
10. Other ratios I have tried to make soft idlis are-
a-1 cup urad daal+2 cups of rice+1/3 tsp fenugreek seeds.
b-1 cup urad daal+3 cups of rice+1/2 cups of left over cooked rice
c-1 cup urad daal+3 cups of rice+1/2 cup poha+1/2 tsp of methidana