Sweet Tomato Chutney | Tamatar Ki Meethi Chutney -Sweet Tomato chutney- Best side dish For stuffed Parathas and snacks
Sweet Tomato Chutney /Tamatar ki meethi chutney is made in so many versions and each state and house hold have their own favourite recipes of making chutney.Though tomato chutney is made through out the year in different ways but this tamatar ki chutney is specially made during winters .
It is the best combination with stuffed parathas . I always make this chutney when ever I make stuffed parathas specially with Aloo Methi paratha and Gobhi Paratha.
This tamatar ki chutney is a specialty from U.P . My grandmother, Mother and My Mother In Law ,they all makes this chutney  in the same way. I learned this from my mother like all the other traditions recipes of Uttar Pradesh, she is my favourite cookery teacher 🙂 .
I cant even think of pairing any other tomato chutney with stuffed parathas as this is my childhood favourite and now my children loves it too.This tamatar ki chutney is quite simple to make but tastes awesome.
Choose good quality and red ripe tomatoes to make the chutney , then you have to boil the tomatoes to remove the skin .Traditionally it is mashed with yours fingers , don't grind it with the mixer and make a smooth puree .
For the authentic taste as it should be chunky and pulpy in texture. You can coarsely grind it with a hand blender though. You can substitute sugar with jaggary if you wish.This chutney can be easily stored in the refrigerator for a week.
If You want to try other recipe of tomato chutney then try this –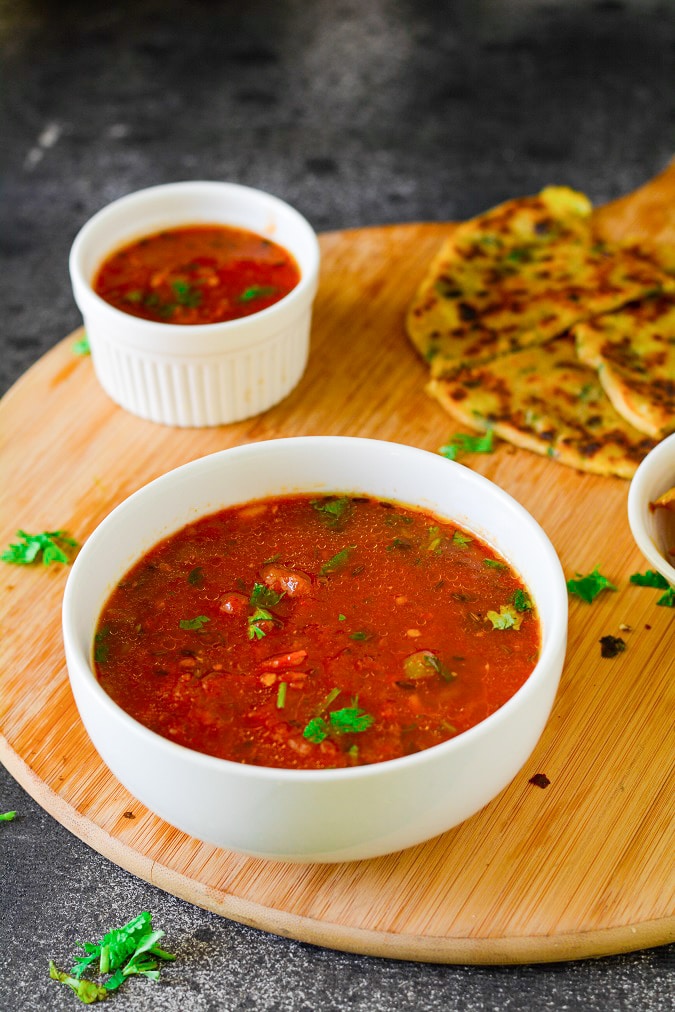 you can subscribe to my youtube channel- Maayeka for new recipe videos