Gajar Matar ki sabzi – simple and delicious stir fry made with carrot and green peas
Gajar matar ki sabzi is a very easy, quick and simple preparation. Though carrot is a winter vegetable but nowadays is available throughout the year. This simple stir fry can be made with both – orange carrots and red indian/pakistani carrots. I prefer using red carrots for this sabzi till the red carrots are available during the season.
It is a simple daily kind of stir fry which goes well with daal-rice combo and paratha or roti. As it is a dry curry so you can easily pack in children's lunch boxes. It is mildly spiced and looks bright and colorful so children often loves this gajar matar ki sabzi and eat it without making any fuss.
Carrot is a very healthy and nutritious vegetable and is also low in fat. It helps to improve vision, an anti oxidant thus slow down aging. Helps prevents cancer. Reduces cholesterol so good for heart health. Good for teeth and gum health. It also helps boosting our immune system. So we should always try to include it in our daily diet .
So many varieties of sabzi, stir fries ,pickles, dessert can be easily made with carrots .Carrot and chili Pickle,  Gajar Ki Kanji which is specially made during winter ,simple eggless Carrot cake . This simple stir fry-  carrot and cabbage sambharo  is like a crisp salad and can be made regularly. Carrot also goes well with broccoli- Broccoli and carrot stir fry is very simple and healthy dish. And the most popular Indian dessert Gajar ka Halwa is a classic winter delicacy. So do try and make different combinations with this healthy vegetable carrot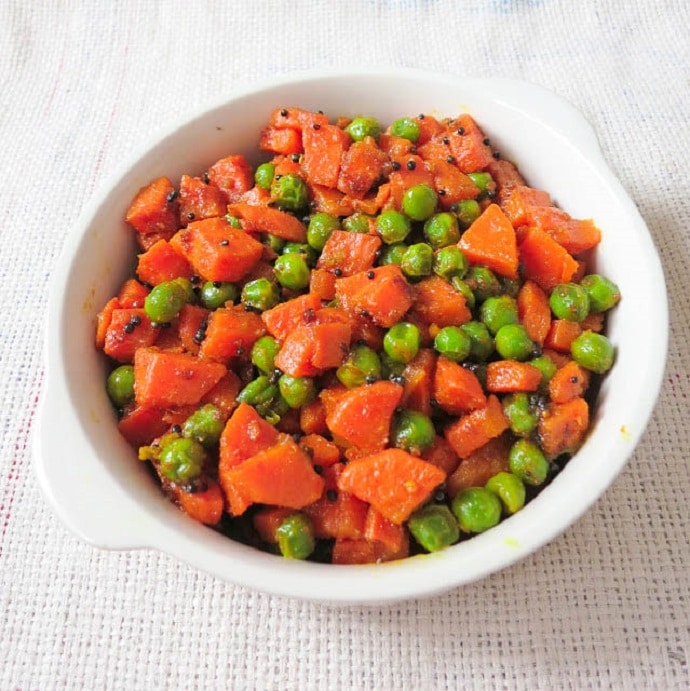 For quick video instructions of this recipe, click here: