Masala Vada- A crisp and delicious lentil cutlet from southern India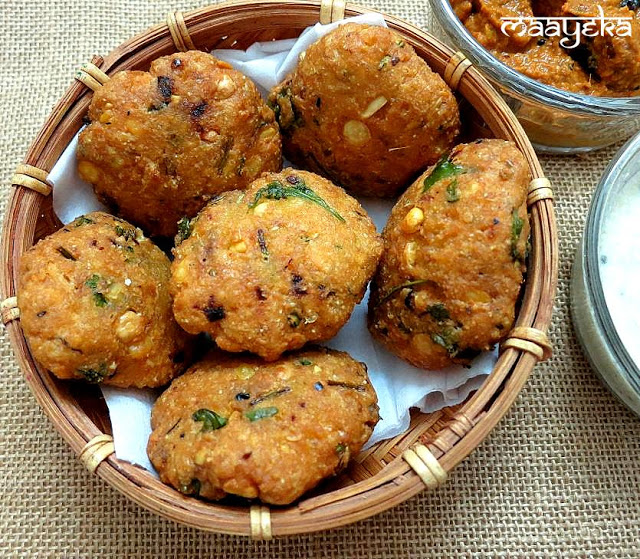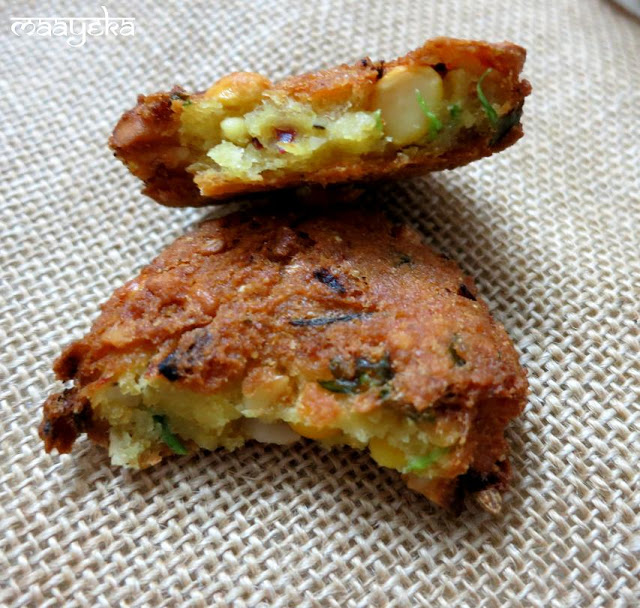 INGREDIENTS-
preparation time-10 min
cooking time-5 min
serve-6
Chana daal(bengal gram)-1.5 cup
Moong daal(yellow lentils)-1cup
Green chillies-6
Ginger-1 tbls
Curry leaves-2.5 tbls
Cumin seeds-1.5 t.s
Fresh coriander-4 tbls
Pepper corns-15
Chopped raw mango-2 tbls(optional)
Fennel seeds-1.5 t.s
Asafoetida-1/2 t.s
Baking soda-1.2 t.s
Salt-1.5 ts
PROCEDURE-
Wash and soak both the lentils seperately for approx.3 hours.
Take out half cup soaked bengal gram and keep aside.(A)
Now drain water and  mix both the lentils
Take lentils in the mixer jar add  1 t.s curry leaves, green chilli and ginger and grind coarsly
Now add fennel seeds,curry leaves and pepper corns and pulse(crush) again for few seconds,add just 1-2 tbls of water to make a thick mixture.
Take the mixture in a bowl, add the soaked chana daal (A) cumin seeds,fresh coriander, chopped curry leaves,chopped raw mango, asafoetida,salt and baking soda.
Mix the lentil mixture well, grease your palm,and take a small portion from the mixture and make a slightly flat tikki.
Deep fry in hot oil on medium heat
Serve hot
Note-if you have added little extra water and not able to make cutlets then don't worry,just make medium size fritters(pakoda)from the mixture:)they will taste equally delicious.
Variation-you can deep fry these vadas till half done ,take out and then press them slightly with your palms and deep fry again for a much crisper vadas.
Serving suggestions-best served with coconut chutney,tomato ketchup or yoghurt dip
There is no Nutrition Label for this recipe yet.