Dahi kofta curry -Kofta made from hung curd in cooked in tomato gravy
Dahi Kofta Curry- One of the biggest problems with Summer, is the lack of variety in vegetables available.
This recipe takes care of that – with curd being the main ingredient for the Koftas. And since it's made of curd – so this dahi kofta curry is a perfect recipe for summers!
You can also try these easy recipes-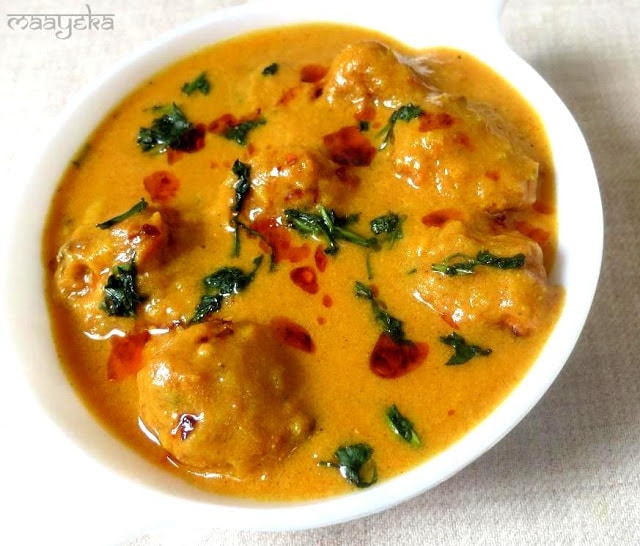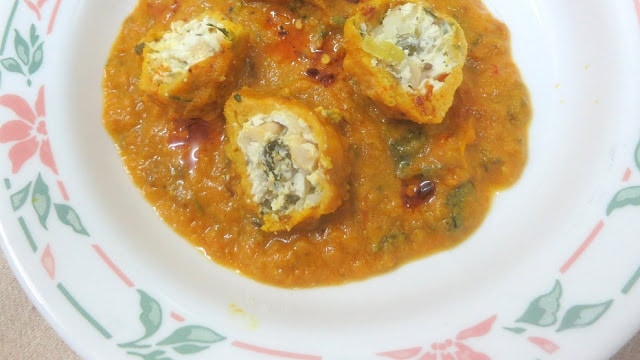 INGREDIENTS- 
For Kofta-
Curd-300 gms
Green chili-2
Chopped ginger-1 t.s
Raisins-1 t.s
Cashews-6
Fresh coriander-1 tbsp
Salt-1/2 t.s
For the batter-
gram flour-1 cup
chili powder-1/2 t.s
salt-1/3 t.s
asafoetida-a pinch of
For Gravy-
Tomato-3
Cashew nuts-8
Hung curd-1 tbs
Ginger chili paste-1.5 t.s
Kashmiri chili powder-1 t.s
Garam masala-1/2 t.s
Coriander powder-1 t.s
Kasoori methi-1/3 t.s
Turmeric-1/2 t.s
Cumin seeds-1/2 t.s
Sugar-1/4 t.s
Salt-1/2 t.s
Oil-3 tbs
Fresh coriander-1 tbs 
PROCEDURE-
Tie curd in a muslin cloth and hang for at least 8 hours to drain the water completely.
Take the hung curd (approx 1.5 cup) in a bowl and then add all the spices and nuts.
Grease your palms and make small balls from the mixture.
If having difficulty in making balls then add 2 t.s semolina,mix and wait for 5 minutes then make balls .
Take gram flour in a bowl and add salt,1/2 t.s chili powder and pinch of turmeric then add just enough water and mix and make a medium thick batter (like you make for pakoras)
Dip the balls in  gram flour batter and deep fry in hot oil till golden in color.
Heat oil in a pan add cumin seed and ginger chili paste,saute for a while.
Add tomato puree and all the spices and fry till oil separates from the mixture.
Add 2.5 cup water and 1 tbs of hung curd and simmer for 5-8 minutes.
Arrange koftas in the serving dish and pour boiling gravy on it.wait for 5 minutes.
Garnish with fresh coriander,chili oil and serve.
Serving suggestions-serve with roti, poori and rice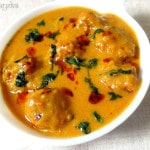 Print Recipe
Dahi Kofta Curry