Saatu ke laddu
A sweet made with roasted wheat and horse gram from the state of Uttar Pradesh.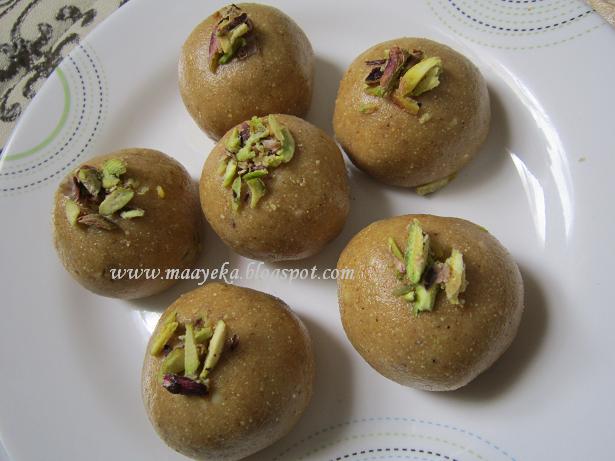 Today is Akshaya Tritiya . It's customary to make sattu ke laddu at home in my community.In India sattu ka atta is  easily available in stores ,but here it's difficult to get, so I make my own sattu atta for making laddu's.
Traditionally sattu is made with roasted and ground powders of pulses and cereals like chana daal, jowar, wheat, oats and barley.It is consumed in different ways  like with sugar ,water, green chillies and  salt and even used as a stuffing for litti and parathas .
Sattu is a popular breakfast in the states of Uttar Pradesh, Bihar, Jharkhand and Orissa.Hope you will like my version of sattu ka laddu
INGREDIENTS
 Roasted chana daal (daaliya, horse gram)-1.5 cup
Whole wheat -1 cup
Powdered Sugar -1 and 1/4 cup
Pure ghee -1 cup(+2 tbls)
Almonds -10
Pista -10
Cardamom powder -1 t.s
PROCEDURE-
Dry roast wheat in a heavy bottom pan on slow flame .for approx. 10 minutes or till nice aroma start coming or roast in a oven on low temp till golden.
Let it cool down completly then grind in the mixer to a fine powder.
Now grind the roasted chana daal to a fine powder.
Take both the powders in a big bowl  and mix well ,add crushed almonds and cardamom powder.
Add powdered sugar and melted warm ghee .
Mix well if feeling dry then add 2 tbls of ghee.
Now take small portion of mixture in your hand and make  laddu's
Garnish with chopped pista.
Stay fresh at room temperature.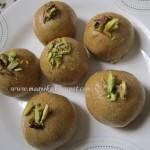 Print Recipe
Sattu ka Laddu