Cauliflower and lentil samosa- Indian snack made with homemade pastry shells with savory vegetable and lentil filling
Samosa is a popular North Indian snack,appetizer and a famous street side snack. Traditionally it is a deep fried snack but some people also like the baked version.
The pastry sheet or the outer covering is made with refined flour and then rolled and shaped into a cone and stuffed with a spicy mixture. The filling is usually made with potato,peas and variations with cheese, lentils and non-vegetarian versions are also not unheard of.
The traditional way is a little difficult for beginners so I am sharing a much easier way of making samosas. Samosas are always served with a tangy dipping sauce like green chutney and date and tamarind chutney.
INGREDIENTS-
Yellow lentils(moong daal)-1/2 cup
Potato-1 medium
Cauliflower-250 gms
Boiled peas-3 tbsp
Salt-1 tsp
Sugar-1 tsp
Lemon juice-1 tsp
Chilli powder-1.5 tsp
Garam masala-1/2 tsp
Ginger -1/2 tsp
Green chilies-2
Refined oil-2 tsp
Grated coconut-2 tbsp
Fresh coriander- 2tbsp
Dough for samosa covering-
Wheat flour-1 cup
Refined flour-1 cup
Corn flour-2 tbsp
Salt-1/2 tsp
Ghee-2 tbsp
PROCEDURE-
Wash and soak moong daal for 30 minutes.then drain and keep aside
Chop potato and cauliflower in small pieces.
Heat 2 t.s oil in a pan ,add asafoetida,chopped green chilies and chopped potato,cover and cook on low flame for 2 minutes.
Add turmeric, cauliflower ,peas and soaked moong daal.cover and cook till done but crisp.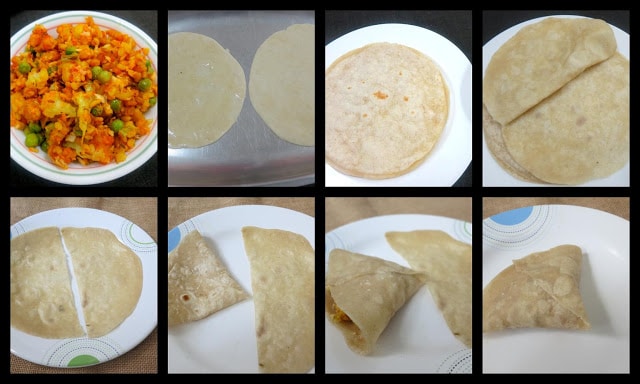 5-Take out the mixture in a bowl and add sugar,lemon juice,garam masala,ginger and grated coconut.(PIC-1)
6-Take wheat flour,refined flour,corn flour,salt and ghee  in a bowl,mix and make a medium soft dough with water.
7-Rest for 15 minute and then knead well and make small size balls from the dough.
8-Mix 2 tbls of refined flour with little water to make a smooth slury.
9-Take 2 balls and roll to make a disc of medium thickness.(PIC-2)
10-Drizzle 1/2 tsp of oil on both disc and spread properly ,then sprinkle some flour.
make a sandwich of both disc and roll again to make a thin chapati.
11-Heat a griddle and place the disc(chapati)over it and slightly cook from both sides and remove from the griddle.(PIC-3).
12-Pull apart the chapati and seperate both the sides.(PIC-4)
13-Cut from the centre and make 2 half moons shapes.(PIC-5)
14-Fold and make a cone,apply the slury on the joint to seal it properly(PIC-6)
15-Stuff with 2 tbsp of vegetable mixture(PIC-7)
16-Apply slury and seal and close properly.(PIC-8)
17-Heat oil in a pan and deep fry samosa's on medium heat till golden in colour.
18-Drain on a tissue and serve hot.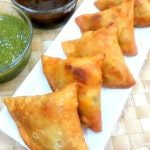 Print Recipe
Cauliflower and Lentil Samosa ,Phoolgobhi and moong daal samosa