Mexican chilli bean rice -A mildly spiced Mexican rice preparation with kidney beans and bell peppers 
This popular Mexican rice is cooked with jalapeno,capsicum and kideny beans .Its a spicy preparation,you can also use  cooked canned kidney beans to make this ,but I prefer to soak and  cook myself.
I tweaked it slightly to suit my taste, which comes out well .You can reduce the amount of jalapeno if you want to make it milder and can also add red and yellow bell peppers,hope you will surely like this Mexican chilli bean rice.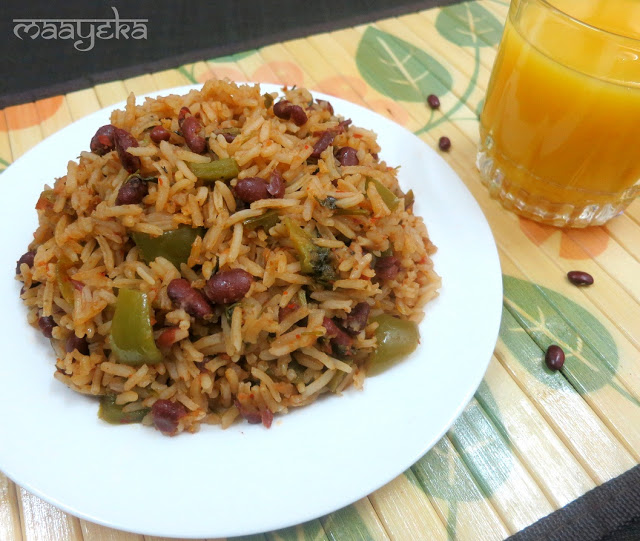 INGREDIENTS-
preparation time-10 min
cooking time-10 min
serve-4
Rice-1 cup
Boiled kidney beans-1 cup
Capsicum -1 cup
Chopped pickled jalapeno-1.5 tbls
Oregano-1 t.s
Chilli flakes-1 t.s
Ground cumin -1 t.s
Fresh coriander( with steams)-1 cup
Olive oil-4 tbls
Water-3 cup
Tomato -1.5
Salt-1 t.s
lemon juice-1 t.s(optional)
PROCEDURE-
Chop jalapeno in small pieces and capsicum in cubes.(if you don't have pickled jalapeno then chop medium hot green chillies and soak them in white vinegar for 4 hours,add little salt)
Boil and grind the tomato to make puree.chop coriander( with its steam)
Heat oil in a pan and add rice(don't wash and soak the rice ,you can wipe with a moist cloth if you wish)saute for 1 minute on medium heat.
Add chopped jalapeno and capsicum and saute for a minute.
Now add boiled rajma (Soak and pressure cook rajma in salted water till done ,but not mushy) salt, oregano,chilli flakes and cumin powder and stir fry.
Then add tomato puree.chopped coriander and hot water.
Give it a boil and then lower the flame add lemon juice and cover and cook till done
Gently stir 2-3 time in between.
Fluff with a fork and serve hot.
serving suggestion-serve with any juice or hot soup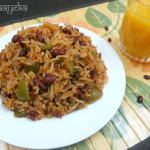 Print Recipe
Mexican Chilli Bean Rice