Bread Poha- a quick breakfast recipe to use your left over bread
My today's recipe is very simple and quick.A nice way to use your left over bread to make a quick fix snack.You need just a few ingredients to make this and a filling breakfast or tiffin for your kids is ready to pack.I have added some buttermilk to soften it,but you can also sprinkle some water or avoid both  if you want to make it crisp.
You can also try this delicious Aloo Poha recipe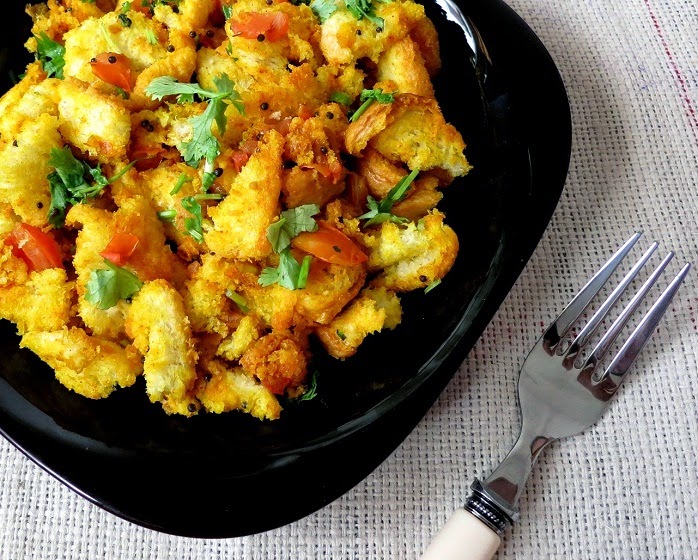 Prep time -5 min
Cooking time – 7 min
Cuisine-Indian
Type-snack
INGREDIENTS-
Bread slices-4
Butter milk-1.5 tbsp(optional)
Tomato,chopped-1
Ginger grated-1/2 tsp
Turmeric-1/3 tsp
Chili powder-1/2 tsp
Lemon-1/2
Salt-to taste
Fresh coriander,chopped- 1tbsp
Tempering-
Cooking oil-1.5 tbsp
Mustard seeds-1 tsp
Green chili,chopped-1tsp
Curry leaves-
PROCEDURE-
Cut bread slices in medium size cubes.
Arrange in a plate and sprinkle some buttermilk or water to slightly moisten them(this step is optional)
Now sprinkle salt,chili powder and lemon juice over the pieces.
Heat oil in a pan ,add mustard seeds ,when seeds start crackling add chopped green chilies and curry leaves.
Now add chopped tomato and ginger and saute for few seconds.
Add turmeric powder and bread cubes and mix gently.
Add chopped fresh coriander and mix
Serve hot with tomato ketchup or mint chutney.
Note-
1-you can also add some finely chopped mix vegetables at step 5 and saute for a while then add tomato.
2-Can use water instead of buttermilk.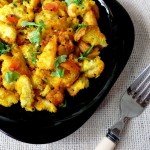 Print Recipe
Bread Poha Recipe