Malai kofta -Stuffed cottage chesse kofta simmered in a creamy tomato sauce
Malai kofta is a classic dish of North India,a must and favourite dish of every restaurent menu card.
The melt in mouth Koftas are made with grated paneer and boiled potatoes and stuffed with nuts and saffron ,the rich and creamy sauce is made with tomatoes,cashews and cream.
There are few versions of making this creamy sauce and the colour of the gravy depends on the spices and ingredients used.you can prepare the koftas and gravy before and just heat them before serving.These fried koftas can also be served as a snack.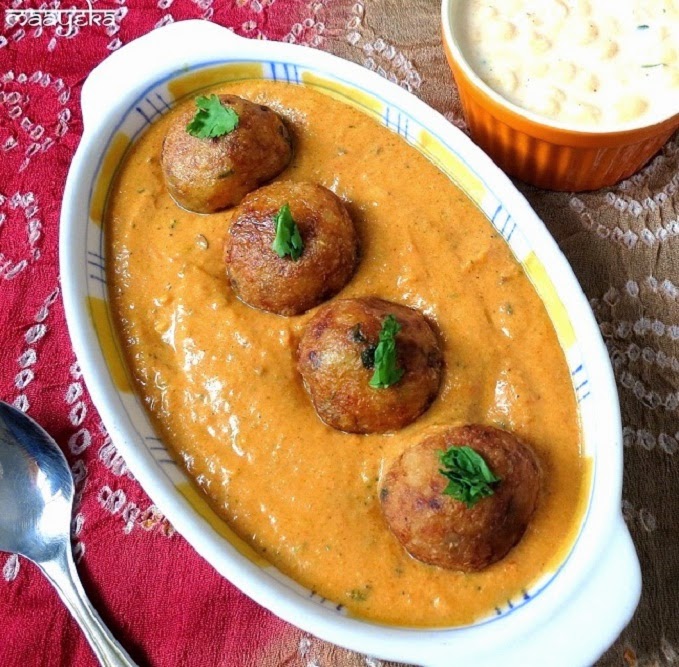 Prep time-15 min
Cooking time-25 min
Cuisine-Indian,Mughlai
Type-main
INGREDIENTS-
For Malai kofta-
Cottage cheese/ paneer-1 cup
Potato,boiled -4
Cashew,chopped-2 tsp
Raisins,chopped-2 tsp
Corn starch- 2.5 tbsp
Cardamom powder-1/4 tsp
Green chilies-1 tsp
Saffron -1/4 tsp
Garam masala-1/2 tsp
Chili powder-1/2 tsp
Fresh coriander,chopped-2 tsp
Pepper powder-1/4 tsp
Salt- to taste
For gravy-
Tomatoes-5
Cashew nuts-1/4 cup
Fresh cream-1/2 cup
Green chilies-2
Ginger- 1inch
Sugar-1 tsp
Chili powder-1.5 tsp
Turmeric powder-1/2 tsp
Salt- to taste
Kasoori methi -1 tsp
Fenugreek seed-pinch of
Cardamom powder-1/3 tsp
Clove powder – a pinch
Bay leaves-2
Cinnamon  -1/2 inch
Garam masala-3/4 tsp
Fresh coriander-2 tsp
PROCEDURE-
KOFTAS-In a big bowl mash together 3 boiled potatoes,1/2 cup paneer,salt,chili powder,corn flour(or soak 1.5 bread slice in water, squeeze and use instead of corn flour)chopped fresh coriander and garam masala,mix well-mixture A
In a seperate bowl, take 1/2 cup paneer(mash and make it smooth),chopped cashew pieces,chopped raisins, saffron(soaked in 1/2 tsp of warm milk),cardamom powder,pepper powder and pinch of salt and mix well.-mixture B
Take a small portion from the mixture A and flatten it and then stuff it with a small ball made with the mixture B and then roll and make round balls from it.
Roll the balls in dry corn flour and then dust off the extra corn flour.
Heat oil in a deep pan and deep fry the koftas till golden in colour.
Drain on a tissue paper and keep aside.
GRAVY-Boil  the tomatoes and then grind with 2 green chilies and ginger
Soak cashew nuts in warm water for 15 minutes and then drain the water and grind cashews to make a smooth paste.
Heat 2 tbsp oil+1tbsp of butter in a pan and add bay leaves,cinnamon and a pinch of fenugreek seeds and fry for few seconds
Now add tomato puree and cook for approx 2-3 minutes, partially cover the pan with a lid to avoid splattering.
Then add turmeric,chili powder,cardamom powder,clove powder(or 2 cloves) and cashew paste.
Mix well and saute till the oil start seperating from the sides of the pan.
Now add approx 1.5  to 2 cups of water and let it simmer till it thickens,will take approx 10 minutes.
Add sugar,cream, garam masala and crushed kasoori methi.
Simmer  for a minute and then add chopped fresh coriander and 1 tsp butter
Just before serving arrange the hot koftas in the serving dish and pour the hot gravy over them.
Serving suggestions-serve with  jeera rice,pulao or naan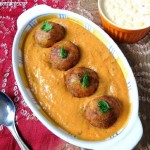 Print Recipe
How To Make Malai Kofta