Gujarati pickle masala-The popular Gujrati spice mix for making pickles.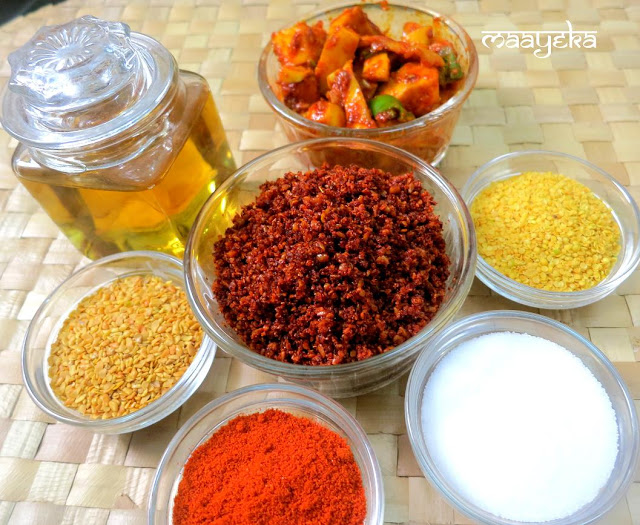 This is the popular pickle masala from Gujrat In Gujrat they call this sambhaar masala/methiya masala .This is very handy for making any type of  pickle(instant or yearly).
Just add this gujarati pickle masala and some oil in the  vegetable,wait for 3.4 days and your delicious pickle is ready to eat.you can make any vegetable pickle with this gujarati pickle masala.
INGREDIENTS:-
Kashmiri red chilli powder-1 and 1/4 cup
Methi(fenugreek) kuria – 1/3cup*
Whole pepper corns- 2 tbsp
Rai kuria-1 cup*
Salt-3/4 cup
Asafoetida- 2 tbls
Turmeric -2 tbls
Sesame oil or Mustard oil-1 cup
Fennel seeds(crushed)-1/4 cup(optional) *
PROCEDURE-
Heat oil in a pan till smoking point.
Let it cool down a bit till it comes to warm temperature.
Take all the spices in a bowl and pour in the warm oil.
Mix well .and keep aside for 1 hour.
Store in a glass jar when cool down completly and use when needed.
Note-
1-For 1 cup chopped vegetable take approx.3 t.s masala and 3 t.s oil to make a instant pickle
2- Use kashmiri chilli powder to give a nice and bright colour to your pickle.but if you are using the regular chilli powder then use 3/4 cup
3- fennel is not used in Gujrati masala.but gives a nice flavour and taste to any pickle,so I love to add this in my spice mix..
*Rai kuria-split and dehusked mustard seeds
*Methi kuria-coarsly ground fenugreek seeds-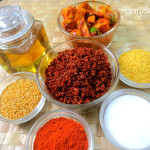 Print Recipe
Gujrati Pickle Masala