Raw Banana Stir fry- Kachchey kele ki sabzi , Stir fried raw banana curry with mild
Indian

 spices
Banana fruit is very healthy and nutritious and every one just loves its taste. ripe banana is used as a fruit and very popular worldwide. the raw banana is also used to make curries and stir fries. this simle yet very delicious raw banana stir fry is very delicious and i make it often as every one at my home just loves it .
the process of making this raw banana stir fry is very simple . You just have to boil the banana and then peel and slice it. it is tempered in cumin ,carom seeds ,carom makes it easier to digest. basic Indian spices are added and stir fried for few minutes.
it can be served with roti,paratha or poori or with as a side dish with rice and daal.
you can also try these banana recipes-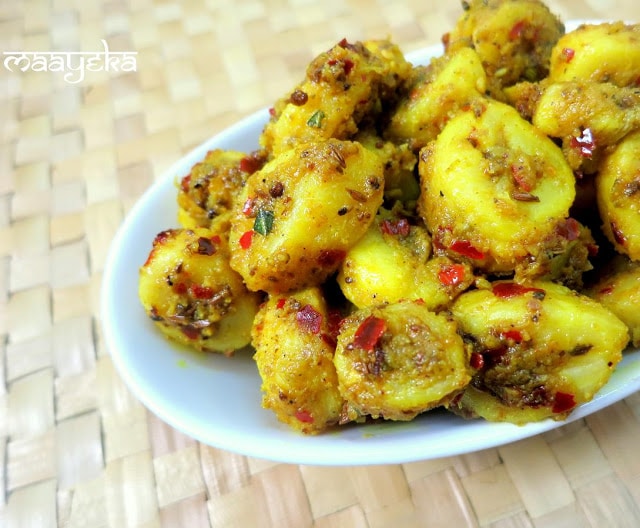 INGREDIENTS-
preparation time-5 min
cooking time-10 min
serve-4
Raw banana-5
ginger-1/2 inch
carom seeds(ajwain)-3/4 t.s
cumin seeds-1/2 t.s
asafoetida-1/4 t.s
clove powder- a pinch of
turmeric-1/2 t.s
Chilli flakes- 1.5 t.s
Coriander powder-1 t.s
mango powder- 1 t.s
garam masala-1/4 t.s
oil-3 tbls
PROCEDURE:-
Pressure cook whole bananas for 2 whistles.(or cook till done)
Peel bananas and chop banana in roundals.add grated ginger in the pieces.
Heat oil in a pan ,add cumin and carom seeds ,when start crackling add in the asafoetida and clove powder.
Now add turmeric and then banana pieces.mix.
Add salt ,chilli powder, coriander powder and mango powder.
Gently stir fry for 1 minute .
Add garam masala and fresh coriander.mix again.
Serve hot.
Note-
1-If you don't have mango powder then substitute with lemon juice or tamarind paste .
Serving suggestions- serve as a side dish with any meal.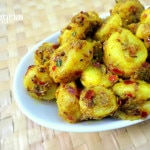 Print Recipe
Raw Banana Stir Fry ,Kachchey Kele ki Sabzi,