Cabbage and potato stir fried and cooked in mildly spiced tomato gravy -Bengali style
Today I am posting my children's favorite cabbage and potato curry.I learned this from my neighbour whose mother-in-law was a Bengali.I am not sure whether  this is an authentic Bengali recipe or her own creation.But it taste just awesome and I am sure you all will love this delicious curry which goes well with roti and rice both.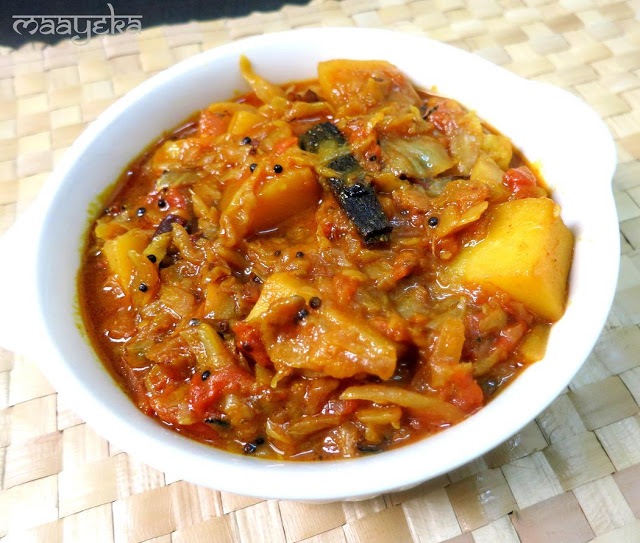 INGREDIENTS-
Cabbage-500 gms
Potato-3 (medium)
Tomatoes-4
Kashmiri chilli powder-2.5 tsp
Coriander powder- 1.5 tsp
Garam masala-1/3 tsp
Turmeric-1/2 tsp
Salt-to taste
Sugar-1 tsp
Tempering-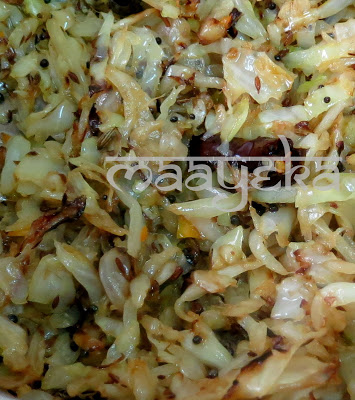 Cooking oil-5 tbls
Mustard seeds-1 tsp
Cumin seeds-1 tsp
Fennel-1/2 tsp
Fenugreek seeds-1/2 tsp
Asafoetida-1/4 tsp
Cinnamon-1/2 inch
Bay leaf-1
Cloves-2
Whole red chillies-4
PROCEDURE-
Slice the cabbage into 2 and then finely Shred the cabbage ( approx 5 cups)
Peel and chop potatoes into medium size pieces and chop tomato into fine pieces.
Heat oil in a heavy bottom pan,add the tempering ingredients on low flame.
When seeds start crackling and  become golden in colour ,add the shredded cabbage and fry on high heat for 1 minute, then fry on medium heat for about 5 minutes.
Keep stirring the cabbage,till the sides of cabbage become golden brown.(like the above pic) and don't skip this ,as the main taste comes from the roasted cabbage.
Now add the chopped tomato and  salt and cover and cook on low flame till tomato become soft and mushy.
Add chopped potatoes,corinader powder and chilli powder (reduce the amount of chilli ,if you are not using kashmiri chilli powder) fry for a  minute and add 1.5 glasses of water.(water level should be approx.1.5 inch above the vegetable)
Cook covered till done(approx 10 minutes) and if all the water is absorbed till now,then add some warm water(approx.1 cup) at this stage to have some gravy.
Then add sugar and garam masala and cook for 1 minute.
Serve hot.
Serving suggestions-best with rice,khichdi ,roti or as a side dish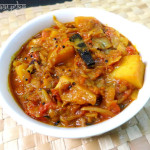 Print Recipe
Bengali Cabbage and Potato Curry