Gobhi Paratha- Indian flatbread stuffed with grated and slightly cooked cauliflower and few Indian spices
Gobhi paratha-After the most popular Aloo ka paratha,the next most popular paratha from Punjabi cuisine is Gobhi  paratha which is now popular all over India .Though it is mainly served as breakfast but can be had at any time -lunch, dinner, tiffin box it can be enjoyed any time.
There are two ways of making Stuffed Gobhi parathas-
1- Easy way– just grate cauliflower and add all the spices and mix well ,then stuff in the dough balls and make like normal stuffed parathas.
2- With cooked cauliflower masala– I prefer this way as the slightly cooked cauliflower taste better then the raw cauliflower ones but every one have their own preferences .Today I am sharing my personal favourite method but you can also make parathas with out cooking the masala ,just mix all the spices with the grated cauliflower and proceed .
During winter when good quality of cauliflower is available in the market I make the most popular –
Gobhi ,gajar and shalgum ka Achar
 which is a seasonal pickle and a must make every winter.This delicious
Dhaba style gobhi aloo
is the favorite of my family and cooked often on their demand.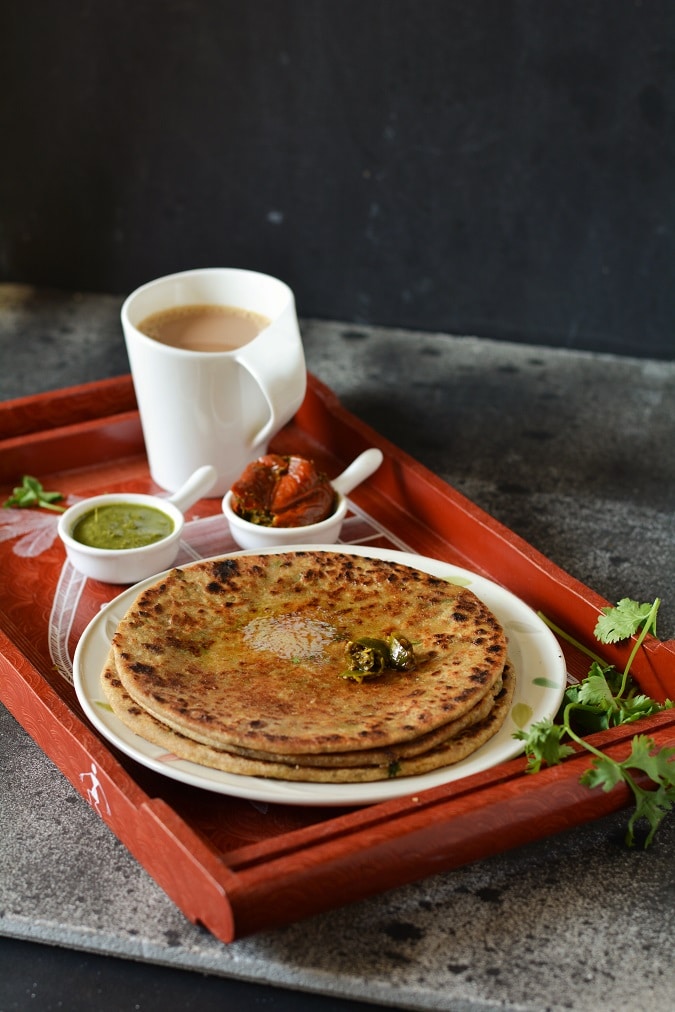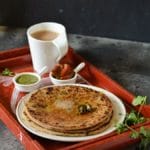 Remove the steams and leaves from the whole cauliflower and wash it.

Now soak the flower in warm salted water for 10 mins(to remove the germs if any).

wipe with a napkin to absorb extra water and Then grate it with your vegetable grater or use your vegetable chopper .

Heat 2 tbls oil in a non stick pan, then add cumin, ginger and chopped green chilies. Saute for few seconds

Then add the grated cauliflower, all the spices, mix well and saute for 2-3 mins. Remove and allow to cool completely. Finally add the chopped coriander leaves.

Take the flour in a wide bowl, add salt ,ajwain and the oil and mix well.

Now add just enough water and knead to make a soft dough. cover and keep aside for 15 minutes to rest.

Divide the dough into the size of ping pong balls.

Take a dough ball ,roll it slightly about 3 inch disc and then Place about 3 tablespoon of the stuffing in the middle and pull and close again from all sides to make a ball.

Dust the stuffed ball with dry flour and roll out slowly to make a paratha of medium thickness.(don't press too hard while rolling otherwise the filling may come out from the paratha)

Place the rolled paratha on medium hot tawa and dry roast from both the sides.

Now apply about 1.5-2 tsp of oil or ghee on the paratha and cook it by slightly pressing with a spatula and when it turn golden then flip the side and repeat the process so it become golden and crisp from both the sides.

When done remove from the griddle and serve hot.

Can apply some butter or ghee before serving.
There is no Nutrition Label for this recipe yet.