Palak Bhajiya- crisp and crunchy fritters made with spinach, potato and curry leaves
Palak bhajiya is  very popular street food from Kolhapur. The already crisp palak coated with crisp besan batter is a yummy easy to make snack to have with Chai on a nice monsoon day or Soda for a chatty get together with friends and family. Fried food is loved and enjoyed by every one though now due to health reason and the high calories count often we avoid fried food but occasional indulgence is accepted 🙂
There are so many fried items which are popular all over India and world wide like- Mumbai Pav Bhaji , Mumbai Vada Pav , Punjabi Aloo Samosa , Crisp Moong daal kachori, Ram Ladoo, 
These palak bhajiyas are made with roughly chopped spinach,thinly slices potatoes, addition of curry leaves gives a nice flavour and taste to these pakoras. Buttermilk and baking soda gives a nice crisp and crunchy texture . You can also half fry them first and when you want to serve just slightly press and refry the pakora .Try these crispy palak bhajiya and you will surely love them!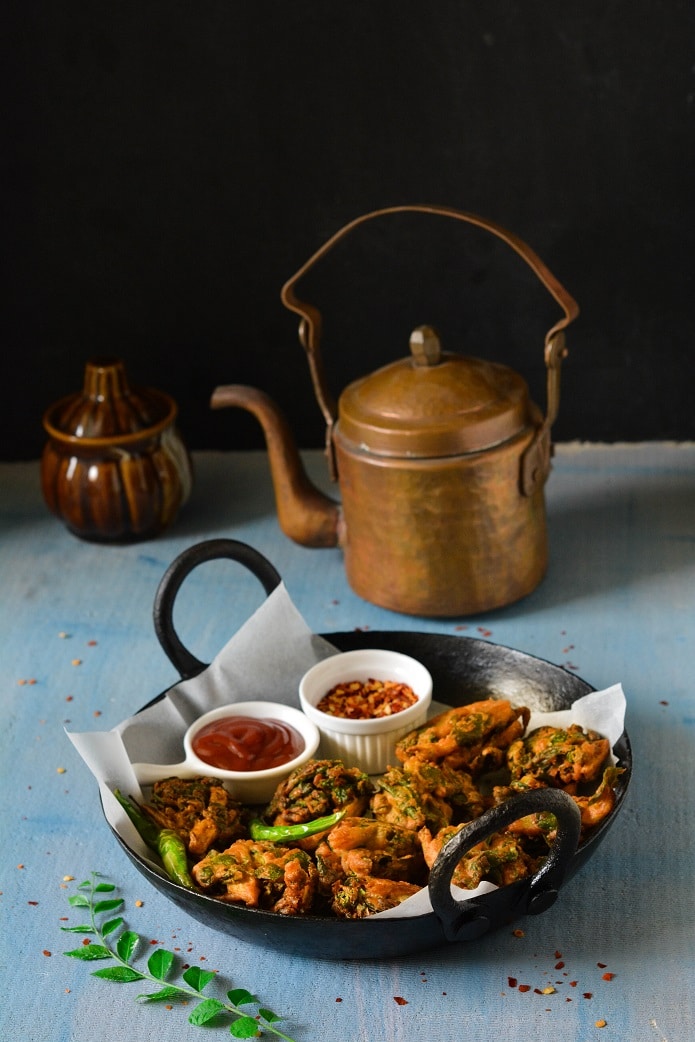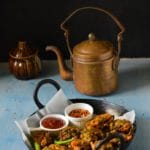 Wash and roughly chop spinach and curry leaves.

Peel potato and chop into thin long slices.

In a bowl add gram flour, salt ,turmeric,chili powder ,asafoetida, baking soda and mix.

Now add butter milk and make a semi thick paste.

Heat enough cooking oil in a deep wide pan.

Now add chopped spinach,curry leaves,green chilies and potatoes in the gram flour batter and mix well.

Take around 2 tbsp mixture in your hand and gently drop in the hot oil.Make few more to fill the pan

Dont add too much pakoras in one batch ,if you crowd the pan they will not cook properly and remain raw from inside.

Cook on medium heat and don't flip and turn them more then 2-3 times.else they may break and absorb too much oil.

Whenpakoras become golden in colour then drain on a paper napkin and serve hot.

Best served with few fried green chilies,green chutney and tamarind chutney.
There is no Nutrition Label for this recipe yet.