Dhokla sandwich -Semolina sandwich  stuffed with spicy vegetable mix.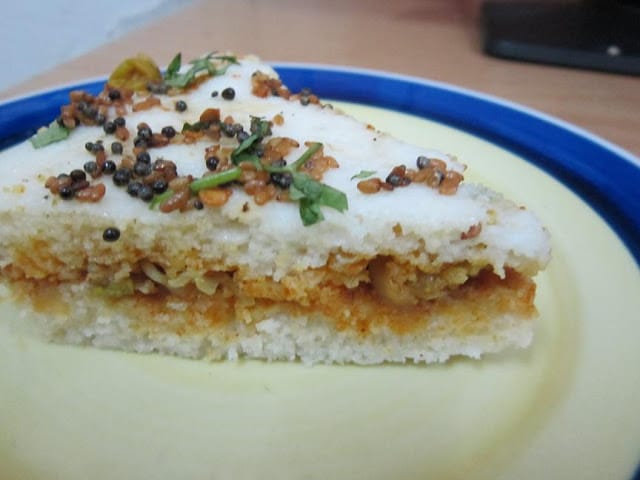 INGREDIENTS-
preparation time-10 min
cooking time-10 min
serve-4
For the Batter
Semolina – 1 cup
Rice Flour – 4 tblsp
Curd – 0.5 cup
Salt – 0.5 tsp
Fruit Salt – 1.5 tsp
For the Stuffing
Asafoetida – 0.25 tsp
Shredded Cabbage – 1 cup
Chopped Capsicum – 0.5 cup
Peas – 0.25 cup
Sambhar Masala – 1 tsp
Red paprika powder-1 tsp
Turmeric – 1/3 tsp
Salt – 0.5 tsp
Lemon Juice – 1 tsp
Cooking Oil -1 tblsp
For the paste
Idli Podi Powder – 1 tblsp
Cooking Oil – 1.5 tblsp
For the Tempering
Cooking Oil – 1 tblsp
Mustard Seeds – 0.5 tsp
Sesame Seeds – 1 tsp
Whole Red Chillies – 2
Green Coriander – 2 tblsp
PROCEDURE:-
For the Batter
1. Mix the semolina, rice flour, curd and salt in a bowl, and add enough water to make a smooth batter.
2. Keep aside for 20 minutes.
For the Stuffing
1. Heat 1.5 tblsp of oil in a pan.
2. Add asafoetida and turmeric, cook for a few seconds, and then add the peas, cabbage and capsicum.
3. Now add the salt, sambhar masala, chilli powder and stir fry till the vegetables start softening.
For the Cakes
1.Grease a plate with 1.5 t.s of oil. boil  1 .5 glass of water in a steamer.
 Then add fruit salt in the batter, mix well and quickly pour half of the mixture into the plate and steam for 3 minutes.
2. Take the plate out of the steamer and spread the podi mixture on the semolina cake.
3. Spread the vegetable mixture over it.
4. Pour the remaining batter over the vegetable layer and sprinkle 1/4 sambhar masala over the batter.
5. Now place the plate in the steamer again and steam for 8 minutes.
6. Take the plate out of the steamer and let it cool down for 10 minutes
7. Cut into triangles.
8. Heat 1 tblsp of oil in a small pan..
9. Add mustard and sesame seeds to the oil, and when it starts crackling, add whole red chllies to the oil and pour over the triangle pieces.
10. Garnish with chopped coriander.
Serving suggestion: Serve with tomato ketchup and green coriander chutney.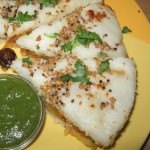 Print Recipe
Stuffed Dhokla , Dhokla Sandwich