Kabuli chana chat – A healthy and  delicious chick peas and mix fruit chat
Kabuli chana chaat is a very healthy ,colourful and delicious mix fruit salad or chaat. It is a very good source of natural fiber,minerals,vitamins  and all the nutrition needed for the body. A diet consist of all the colourful veggies and fruits can help to prevent High Blood Pressure and good for Heart health. It also prevents some kinds of Cancer, very good for digestion.
You can add as many raw vegetables and fruits of different colors as you can. Specially during summer it's a good idea to have a healthy salad for your meal.  Fiber rich diet makes us full soon so we never tend to overeat. This helps to keep our weight in control.
I have added boiled chick peas but if you are short of time then you can use tinned chick peas in it..Instead of kabuli chana you can use boiled kala chana too.  I have added my favourite fruits and vegetables but you can add pineaapple , kiwi, pear, strawberry ,apple ,grapes ,melon,papaya or add any fruit of your choice. For the dressing you can add parsley,oregano or thyme instead of mint leaves.
The dressing I have add is very delicious ,healthy and mildly spiced and added a tangy flavour to the salad/ chaat. Try this chana chaat once you will be making it regularly.
Do try these salad/chaat recipes –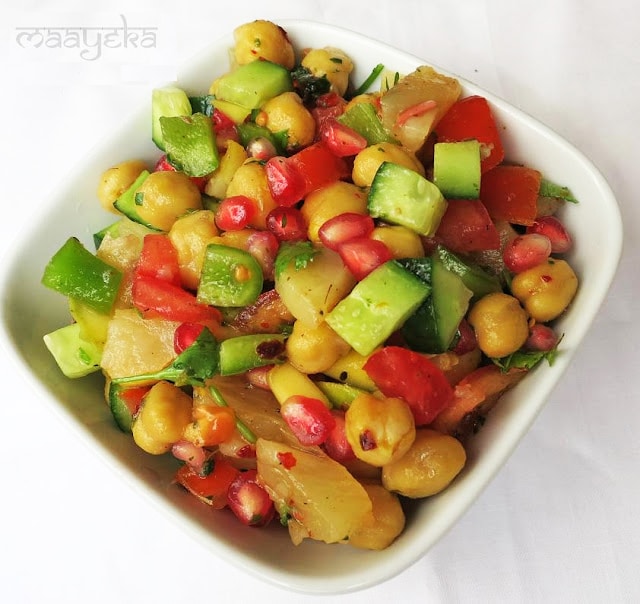 INGREDIENTS:-
preparation time-15 min
serve-4
Boiled chick peas- 1 cup
Chopped pineapple -1/2 cup
Chopped raw mango-3 tbs
Boiled corn nib-lets-2 tbs
Chopped cucumber-1/2 cup
Tofu or cottage cheese-1/4 cup
Pomegranate seeds-1/3 cup
Diced capsicum-2 tbs
Chopped tomato-1/2 cup
Fried potato cubes-1/4 cup(optional)
Dressing-
Mint leaves-10
Olive oil- 3 t.s
Honey-1.5 t.s
Lemon juice-2.5 t.s
Chili flakes-1/2 t.s
Grated ginger-1/2 t.s
Pepper powder-1/2 t.s
Black salt-1/2 t.s
Chat masala -1/2 t.s
Salt-1/2 t.s
PROCEDURE-
 Chop and crush mint leaves and take in a bowl then add all the ingredients of dressing and mix well.
Add all the fruits and vegetables in  a big bowl.
Mix in the dressing and chili for 1/2 hour.then serve.
serving suggestions-serve as a salad, snack, starter or chat.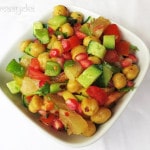 Print Recipe
Kabuli Chana Chat /Chick Pea Salad