Chili Paneer Mumtaz- A quick,simple and delicious cottage cheese and bell pepper curry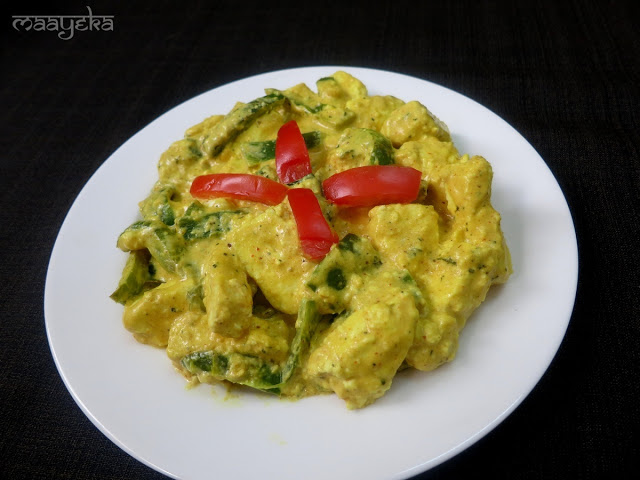 INGREDIENTS– (serve 4)
Cottage cheese(Paneer )-250 gms
Capsicum-2
Tomato -1
Fresh cream-1 cup
Cashew nuts- 12
Garam masala-1/4 tsp
Chili powder-1/2 tsp
Kasoori methi (dried fenugreek leaves)-1 tsp
Turmeric powder-1/4 tsp
Tomato ketchup-2.5 tsp
Salt-1 t.s
Oil-2 tsp
PROCEDURE-
Soak cashews in water for 1/2 hour ,then grind in the mixer with  little water.
Make long slices (batons)of paneer,capsicum and tomatoes.
Heat oil in a pan and saute capsicum.Take out and keep aside
Now add 2 tbsp cashew paste and saute for a while .
Add turmeric ,chili powder,crushed kasoori methi  and saute.
Mix in 1 cup of water and simmer on low flame
Add cream, paneer and capsicum .cook for 2 minute
Add garam masala ,tomato fingers,tomato ketchup and fresh coriander.
Mix and cook for a minute and serve hot.
NOTE-
1-If you want to reduce the quantity of cream ,then add 1/2 cup cream and use milk instead of water.
2-Can substitute cottage cheese with tofu.
Serving suggestion-serve with tandoori roti,naan or any bread of your choice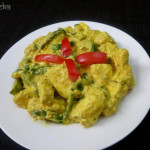 Print Recipe
Chilli Paneer Mumtaz